Oscar winner Chuck Workman has begun work on a new documentary titled "What is Cinema?" for Cohen Media Group. Seeking to explore the art of filmmaking, Workman has interviewed directors David Lynch and Mike Leigh, and will interview several filmmakers at this year's Sundance Film Festival, which began Thursday.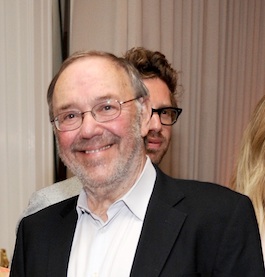 Workman, who won an Oscar for his 1986 short "Precious Images," took the title for this new documentary from a seminal book by legendary French film theorist Andre Bazin.
Bazin co-founded French film magazine Cahiers du cinema and had a major infleuence on French New Wave filmmakers including Francois Truffaut and Jean-Luc Godard.
"Cinema is something we all grew up with and we think we know it. Or we don't think about it much, just sit down and enjoy the film. But it changes daily, and this is an attempt to chronicle where it is today and where it will be, or should be, tomorrow," Workman said in a statement.
Many may know Workman's work without realizing it. He makes many of the montages seen during the Oscar telecasts, including the In Memoriam section. He has also made documentaries including "The Visionaries" and "Superstar: The Life and Times of Andy Warhol."
Workman and Cohen may also collaborate on a pair of other documentaries about giants of American cinema. Both "What is Cinema?" and those prospective films fit right in at Cohen, which distributes independent and foreign films. Its upcoming releases include Rachid Bouchareb's "Just Like a Woman" and Francois Ozon's "In the House."