Last Updated: Tuesday, April 21, 2017
Days before Coachella 2017 begins and a now supersized crowd of 125,000 fans per-day descend on Indio for shows by Kendrick Lamar, Radiohead, Lady Gaga, Dillon Francis, the Preservation Hall Jazz Band and more, the side-party scene has taken shape.
Other than the Party Report, nobody has nailed the tropes of the desert party template better than an enterprising group of industry professionals from ICM, Insomniac, Uber and digital strategist Greg Baroth, throwing a "Pre-Weekend Desert Music Festival Party."
Check out the invite:
This is not a graphic from The Onion.
It's a real event. It could also be the invite for a slew of events drafting off of the festival from Palm Springs to Thermal over the two weekends.
(For the record, Coachella organizers would probably like me to remind you that there are no official Coachella parties. The only "official" events take place at the Empire Polo Grounds. AEG/Goldenvoice has several federally registered trademarks, and they recently sued Urban Outfitters. Party promoters, beware.)
Here are the  The Party Report's top picks from the celebrity-focused, invite-only side-party scene, organized in rough chronological order and not by how many tropes are ripped from the bible of basic-ness documented above.
"Halsey dressing fans at a Palm Springs Thrift Shop"
Thrift Shop off Highway 111
Thursday, April 13
The "Closer" and "New Americana" singer is loading up a shuttle in L.A. and bringing select guests of Three Olives vodka to a pop-up thrift shop for personal festival styling sessions. Afterwards, there's a happy hour at the Saguaro. No tropes here. This is the most creative activation of 2017 so far.
"Witness the Fitness"
Asics x Cobra Fitness Club Palm Springs
Friday morning, April 14
Palm Springs
Take note: I'm putting the cool and different stuff up here at the front.

Photographer turned cultural icon Mark "The Cobrasnake" Hunter has evolved further in to captain of the "fun" fitness industry. I can't describe his vision better than his own manifesto:
Cobra Fitness Club is about striving for your personal best and making your fitness dreams come true. Its about finding friendship, togetherness and even love on the hot, dusty trail of fitness. Its about healthy juices, nourishing protein, and clear, cool water. Its about toned bodies, tight outfits, and getting up from your computer and running really, really fast into the real world. The Cobra Fitness Club is a way to connect with other people who care about health and taking care of their bodies .
A group of the best looking people in Palm Springs will get up and go on a group hike Friday morning. With Asics joining the sweat, the Cobra Fitness Club is picking up steam.
"Did you hear about…"Floato-Ops"?
Funboy x smashbox Pool Party
Friday, April 15. (2 -6 p.m.)
Palm Springs
Six-foot "lip" pool floats promise "a summer fling that will take you past first base but won't let you down. Just remember, no biting allowed." Its creator, Funboy, is going all the way with beauty brand Smashbox, hooking up for a weekend kickoff party.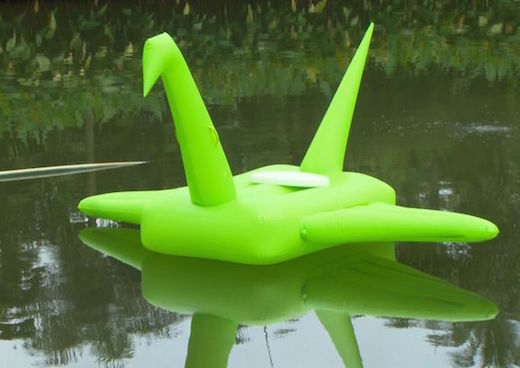 We recognized one of this party host's brash floats from a recent guest appearance on MTV's hit series "The Challenge" (above). One cast member jettisoned a rival's toilet seat into the middle of a lake in Thailand via this origami-inspired neon inflatable. (This is not a joke.)
With Bumble & Bumble styling hair for free, this party should offer more glamorous float-o opps than the bathroom boat pictured above.
"The Mansion Moves East"
Playboy's Party in Palm Springs
Thursday, April 13 (10 p.m.- late)
Ingleside Inn (Palm Springs)

This is a new look for the re-revamped men's magazine, who recently returned nudity to their pages after a brief "lad-mag" year. They usually only bring their parties out of the Mansion for the Super Bowl. With this weekend kick-off scheduling on Thursday night, the Ingleside Inn asserts itself as an MVP of the side party scene (see multiple other events below). Indian Motorcycles and Heineken partner with Playboy.
This event promises: "Flower Crowns Galore"
Makeup brand NYX and Redken Poolside Lounge
Friday, April 15. Noon – 6 p.m.
Saguaro Hotel (Palm Springs)
What else the invite says: "A trek out to the desert is not complete without a good poolside lounge."
What we say: Agree.
"Terry Cloth Tracksuit Alert"
Juicy Couture + NYX
Friday-Sunday, 11 a.m. – 6 p.m.
Saguaro Hotel (Palm Springs)
What the host says: "Perfect makeup touch-ups after a long day in the sun."
What we say: After a long day in the sun, drink some water. Then go to the show… in your terry cloth track suit.
L.A. Nightclub Invasion Part I
Blind Dragon Pop Up Desert Experience
Friday 2 p.m. – 6 p.m.
10 Blocks South of the Polo Club
John Terzian and the h.wood group aren't lying when they say this is a "pop up". Post Malone and Carnage will play a party that on all other days is the blank canvas of a vacant farm field.
Hailee Steinfeld, Post Malone and What a Festival Party Should Be
Republic Records and SBE "The Hyde Away"
Friday 3-6 p.m., Saturday 12-5 p.m.
Close to Indio

Anything Republic Records does sends ripples.
Monte and Avery Lipman's label showcases, rollouts, and bashes are a pure strain of the authentic power players in the music industry. Partnering with SBE to make the two-day "Hyde Away", the intimate gatherings will feature "Republic's Class of 2017" on Friday (Aminé, Justine Skye, Hailee Steinfeld, and Post Malone, invite above) followed by a dinner, and Joe Jonas and electronic godfather Giorgio Moroder ("Scarface", "Midnight Express") on Saturday. Hudson, bareMinerals, and Blade helicopters are the brand partners.
"Emily Ratajkowski and Brody Jenner"
Foray & Vampped 'Desert Oasis'
Friday 2 p.m. – 6 p.m.
Indian Wells
Kaitlynn Carter and Tiana Haraguchi's shopping destination FORAY Collective slices the metaphorical fashion loaf in a non-traditional way. Instead of shopping by garment-type, you shop by "influencer."  Each influencer curates their own collection of pieces. It's like a department store organized by the trendiest shoppers instead of by designer label.
As for Emily Ratajkowski, blink and you may miss her. I've seen her go in-and-out at appearance gigs.  Brody's DJ'ing, but stay for Devin Lucien instead. He's the real deal.
Kanye West once rapped that "Parties at Richie's Are Getting Risky"
Velocity Black x 1Oak / Up & Down Beach Club
Friday, April 14 (2 p.m.)
The L.A., NYC and Vegas nightclub chain overseen by Kanye pal Richie Akiva has been a regular in the desert for years. They're nightlife people. You think they have this sorted two weeks days in advance? Update: Akiva, Darren Dzienciol, and Ronnie Madra are camping out at a mega-mansion with its own lake for three days (and nights) of parties. Continuing the trend of camaraderie amongst the nightlife industry, CATCH LA is catering.
We hear Sunday night's event may have a mainstage alum as the featured guest.
"The Dopest Event"
#Weedmaps Oasis
Friday-Sunday
6 Miles North of the Festival
The google-maps of weed launches its own festival. Organizers will be giving "The Tour," which includes free sampling of various strains during a walkthrough of geodesic domes, greenhouses, and a variety of flowers from Brass Knuckles and West Coast Cure (that's "bud") and edibles from FlavRx.  The invite says there will be "an endless array of cannabis to smoke throughout the compound."
"We are excited to provide the top brands in the industry an event where they are the headliner," Jonathan Jones of Weedmaps said in a statement.  "This is an immersive experience where people will see things they have never seen before, and be educated about all the benefits this amazing plant has."
Recreational marijuana is now legal in California, and this is one of the first events in L.A., So Cal, or anywhere to flip the "Bottles and Models" party script in to a 420-fiesta. There will be a lounge, a speakeasy, a nail salon, massages and a game room.
It feels like something that has only happened in Amsterdam or Jamaica before now. In another sign of the times, the firm that used to produce Sundance gifting suites engineered with lights and sets for maximum photo-opp results is now behind this venture.
The invite says "Whatever you decide, it will be lit!" Agree.
"Outsell the boys"
NYLON Midnight Garden Party
Friday night, April 14 (10 p.m. – late)
Bermuda Dunes
At Tubefilter's meetup of Gen-Z female video creators in L.A. this week, UTA agent Sarah Early said that Nylon and other media brands she works with "outsell the boy brands," making the case that there's nothing "niche" about the post-millenial generation of style-conscious females. Nylon is one of their temples.
The late party after the first night of shows is close to the festival and has no shortage of brands wanting to speak to the same audience: Batiste Dry Shampoo, Johnnie Walker and Guess 1981, among them.
"Celebrate with your Gay Best Friends"
Galore & Grindr's "Queens of the Desert" with Charli XCX
Friday, April 14 (1-5 p.m.)
The Galore Hotel in Palm Springs
Simihaze and Taryn Manning will also DJ at the event whose invite leads with the hold headline above.
"The Pretty Little Playground"
PrettyLittleThing.com & Paper
Friday, April 14 (3 p.m.)
Palm Springs
PLT is a UK fashion retailer (think TopShop) partnering with the NYC based fashion and pop culture book that debuts cool collabs like Jeff Koons x Louis Vuitton.
CIROC 'Summer Colada'
Hard Rock Hotel Takeover
Friday-Sunday (Daytime)
Palm Springs
"24kt Gold Tooth Gems and Free Rides to the Party"
40z & Waffles Brunch
Saturday, April 15 (1- 5 p.m.)
Mansion in Palm Springs
This daylight brew-and-chew series has dotted the L.A. weekend scene over the last four summers. Now, they head to the desert for the first time.
Jay-Z's cognac D'USSE will be poured, free 24kt gold tooth gems will be handed out (courtesy of GBY) and an "adult slip-and-slide" will hopefully only transport those over 21, and not the stars of YouPorn. A few tickets are for sale, with hosts touting that the first 50 confirmations get a free ride to the bash.
Who are these crazy trope-breakers? C.Luxe Brand Management and Sandra Quinn Real Estate. They did not see the flier above.
Mashup Alert: "Fashion x Music"
CFDA Brunch
POPSUGAR Cabana Club
Colony Palms Hotel (Palm Springs)
Saturday, April 15 (11 a.m. – 1 p.m.)
Emily Current and Meritt Elliott (The Great) and accessories designer Clare Vivier host the Council of Fashion Designers of America brunch, now a regular Saturday morning staple during the festival's opening weekend.
"Real Snow and Ice in the Desert"
Bumble's #WinterBumbleland with Kendall Jenner, Kylie Jenner and Ashley Graham
Saturday, April 15 and Sunday, April 16 (1-6 p.m.)
Private Estate in Rancho Mirage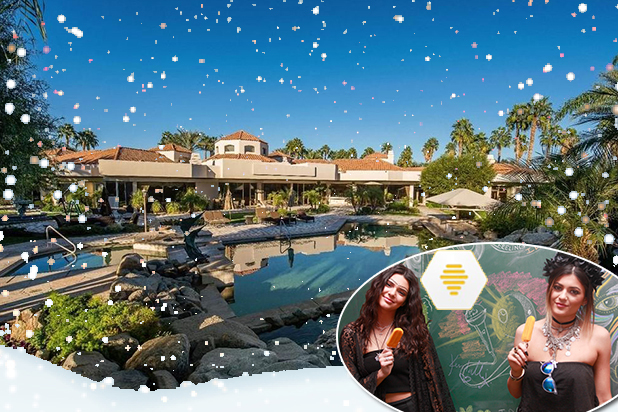 Also Read: Kendall and Kylie Jenner to Host Blizzard-Themed Bash with Bumble Near Indio (Exclusive)
Dating app Bumble swoops in to fill the void of "big swing, big spend" daytime bashes left behind when LaCoste ended their pool party series and H&M brought their sponsorship on to the actual festival grounds.
They sent out these customized snow globe invitations weeks ago, an indication that that the female-first app will continue to be a first-mover in evolving the large scale, first class side party scene. Full details above.
"Membership has its Benefits"
Amex Platinum House at the Parker Palm Springs
Saturday-Sunday (Daytime)
The skeleton key to the velvet rope here is an Amex platinum card, unlocking musical performances and Soul Cycle classes among other complimentary hospitalities at one of the most in-demand hotels during the festival.
"She Played for 40,000 in the Sahara Tent"
Daya performs at the Cabana Club Pool Party
Saturday, April 15 (1 p.m. – 5 p.m.)
Colony Palms Hotel (Palm Springs)
Daya, the "Sit Still, Look Pretty" singer, who became a name via her Grammy-winning vocal on The Chainsmokers' hit "Don't Let Me Down," headlines this afternoon bash in Palm Springs. Last year, she was in the Sahara tent performing for record breaking crowds. This year, it's more exclusive.
For the digital lifestyle vertical PopSugar, they will have something we haven't seen anywhere else: a social media video director to craft professional festival-themed posts to rack up likes.
Might DGA jurisdiction over this job be coming soon?
"The Lucky Lounge is Back"
Lucky Lounge
Saturday, April 15 and Sunday April 16th (12- 6 p.m.)
Ingleside Inn, 200 W Ramon Way (Palm Springs)
Pool, palm trees and backyard mountains. For many, the first stop on the way to the desert, BMF's Lucky Lounge returns as a staple side-party on festival weekends. Update: Noah Cyrus will perform. We expect the young Ms. Cyrus to be on the Sahara tent stage with Marshmello signing their collaboration on Sunday night.
"That's Charli XCX Dj'ing"
Pandora's "Indio Invasion"
Saturday, April 15 (1 p.m. – 4 p.m.)
Cree Estate (67698 Carey Road, Cathedral City)
Under-celebrated as a songwriter, the "I Love It" and "Boom Clap" artist has sold 25 million singles as a scribe with Selena Gomez, Iggy Azalea's "Fancy" and others. After this private event, she'll be on the big stage at the Governors Ball in New York in June.
"L.A. Nightclub Invasion: Part II
Bootsy Bellows Estate
Saturday, April 15 (and weekend two also!), 2-6 p.m.
Rancho Mirage
Huge, crowded and packed with celebs (and their security). Even if you're "on the list," get there early. Chevy and PacSun sponsor and to combat the projected 85 degree temps, Coolhous is handing out ice cream sammies and the redhead Lil Yachty will perform on opening weekend.
"The Original"
Neon Carnival
Saturday night, April 15 (10 p.m. – 4 a.m.)
Jacqueline Cochran Regional Airport (Thermal)
A source of anxiety for 7-8000 trendsetters trying to make their way in to Brent Bolthouse and Jeffrey Best's one-off overnight carnival on the tarmac of a private airport. For full details, check out our feature below.
Also Read: Neon Carnival Sets Date for 2017, Reveals the Future of Popular Overnight Bash (Exclusive)
"Katy Perry's Easter Brunch
Yes, Katy Perry's Easter Brunch
Sunday, April 16 (1-6 p.m.
La Quinta
Further evidence of Katy Perry's teenage days as a christian singer (then known as Katy Hudson) emerges with this unusual Coachella invite. On the day of ascension, the "Chained to the Rhythm" singer has her bestie Mia Moretti spinning the promo event for her footwear line, along with Balthazar Getty & Bobby French. That bunny looks like its had one too many eggnogs.
"Get Festival Ready"
Urban Decay
Sunday, April 16 (12-5 p.m.)
Indio, CA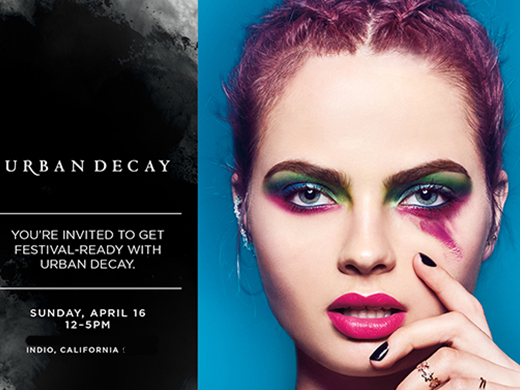 The topline makeup brand wins the proximity and intimacy award, setting up a glam shop when festival goers need it most — on Day 3, after Neon Carnival, Jeremy Scott and the flood of Saturday all-night bashes. They are settling in to a property across the street from the VIP entrance to the festival.
"Brunch at the Nylon Estate"
Sunday, April 16 (12 p.m.)
Bermuda Dunes
Has anybody remembered to eat all weekend?
If calories are not your thing, there are (more) DJs and trendsetters. Angel and Dren (above) are the identical twin DJs with Dartmouth degrees in hand, who look like they walked out of an ad for P90X. CNN, Nike, Dos Equis and Vogue all got in business with them before they hit mainstream.
"The Sisterhood of Sound – With Fifth Harmony"
Sunday, April 16 (1 p.m.)
Galore Hotel, Palm Springs
The ladies of Fifth Harmony (and a "special surprise guest") will try not to rattle the hangovers at Galore and Stillhouse Whiskey's brunch in Palm Springs. Galore editors Prince and Jacob host.
Elsewhere During Weekend 1:
There are some side parties open to the general public.
Party for the General Public
Label Motel presented by Mountain Dew
Saturday, Apr. 14 – Sunday, Apr. 15 (12-4 p.m.)
Musicland Hotel, Palm Springs
G-Eazy will likely be on a day off from making "surprise" guest appearances with Dillon Francis (Friday night) and Kehlani (Sunday), using that time to headline Dew's Label Motel in Palm Springs. Kanye West creative collaborator Virgil Abloh will also spin a DJ set on Saturday. For a free party open to the public, the caffeinated neon bubbly is slinging out more than some of its private party peers: free food, free drinks, "open pool", and hangs with DEW Pro Skate Team athletes.
RSVP here.
Playboy is venturing in to the festival party scene with an event with Indian Motorcycles (details to come), and Jeremy Scott returns with his Saturday night bash.
Weekend 2 Now Has Events (Lots)
What?
Also Read: Coachella Parties 2012: Hollywood, Brands Favor First Weekend
For the first time since the festival expanded to two weekends in 2012, marketers are planting a flag on the wide open prairies of the second weekend.
"Weekend 1 is so yesterday," an event veteran said, flicking her analysis at the Party Report. Others agree.
Here's who is going in the clear lanes from April 21-23.
By Night: "Vodka and Vice"
Belvedere x Noisey: Behind the Scene
Friday, April 21, 10p-1a
Ace Hotel (Palm Springs)
"Noisey" is Vice's music vertical. Their trailblazing should come as no surprise to any follower of Shane Smith's "noisey" media empire.
Focusing on the convergence of music and fashion, the poolside event will feature a performance by "next" artist DJ Esco, a longtime collaborator and musical confidant of "now" artist Future.
If you go here, you miss Radiohead. There may not be much crossover between Thom Yorke's Gen-X diehards and the auspices getting together at the Ace.
By Day: "#EarnYourBeer: Sweat + Party + Repeat" 
Electric Flight Crew X Under Armour's "Electric Mirage"
Saturday, April 22, 10 a.m. – 3 p.m.
Private House (Indio the Fields, Madison and Avenue 51)
The surging fitness brand partnered with Electric Flight Crew, an exclusive fitness and social club that counts 1,000 invited members in LA, NYC, Seattle, Austin, and Chicago. Together, they're throwing a first time social morning workout called the "Electric Mirage".
You have to sweat as a group for an hour (in UA branded hats and tanks) before the yoga, recovery session, pool party, BBQ, open bar and DJ that takes place for the rest of the afternoon.
Weekend 2 is turning out to be more well rounded, breaking the template of what a festival celebration can include. This aims to roll back some of the effects of 10 days in the desert. (They even wrangled the low-cal Michelob Ultra for the fitness set.)
By Day: "The Saguaro"  (Ticketed Event, Open to the Public)
"Desert Weekendr 2"
Friday, April 21 – Sunday, April 23
The Saguaro Hotel, 1800 E. Palm Canyon Dr.,  Palm Springs 
There are three separate ticketed events curated by Dom de la Muerte, the L.A. based DJ who curates the Saguaro programming year-round. Saturday's Sago Sessions and Sunday's RINSE go from 11 a.m.- sundown with Jeremiah Red, Dances w/Wolves, and surprise guests. Tickets range from free to $20, which is over $400 below the price for lowly GA bands to the festival's sold out second weekend on Stubhub.
As for Dom, catch him on the main Coachella fields spinning in the KROQ tent on Sunday at 7 p.m. He had a packed tent with one dancer climbing the wall during Weekend 1.
By Day: "Pool Party, Concert and Pop Up Shop"
Mixology Clothing Company Desert Splash
Saturday, April 22 (12-5 p.m.)
Miramonte Indian Wells Resort & Spa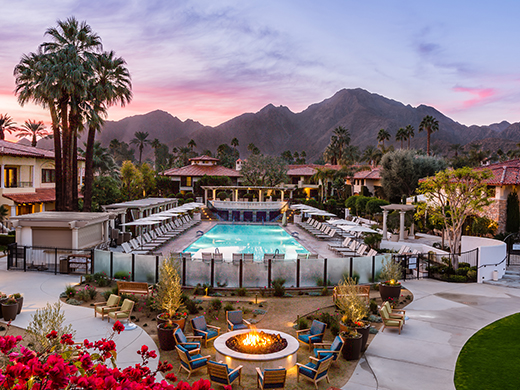 Girl pop band Emergency Tiara (which sounds like Paris Hilton's assistant's worst nightmare) performs at this Weekend 2 pop up shop and pool party.
This scene is starting to fill out. Less nationally known brands are jumping in to the back-end sponsorship fray, with Ricky's NYC beauty products and Pau Maui vodka partnering. They'll also have exclusive bralletts by Nomad VII by Anne Bowen.
"L.A. Nightclub Invasion: Part III
Bootsy Bellows Estate
Saturday, April 22 2-6 p.m.
Rancho Mirage
This is the first major bash to repeat itself on both weekends, rather than just pick a date and stick to it. Brands believe it's a great marketing platform, as they will switch out sponsors and join with McDonald's for the second round. Ahead of the arches' rollout of new menu items in May, they'll be serving "Signature Crafted Recipe" sandwiches and non-alcoholic soft drinks here first.
Saturday Night Weekend 2 Party on 40 acres..with A-Trak?
Desert Glow Private Party
Saturday, April 22 (1-6 p.m. and 9 p.m. – 2 a.m.)
61st Avenue
This group booked a 40 acre estate next to a lake and tout that they are bringing in their own festival stage. The shocker: They are taking RSVP's from the general public. The invite we got says they have booked A-Trak, which must be for the daytime, since the prolific producer is playing a festival in San Diego that night.
This one comes via L.A. art enclave and collaborative workspace CTRL COLLECTIVE and a variety of partners: Nylon Español, an E-Sports Music Experience, and most importantly, drinks by Bacardi.
Pro-tip: The second weekend is a space to watch. Big players are spreading out.
All events are private and by invitation only unless otherwise specified.
More Coachella related news to come…please send bookings, updates and invites to the party columnist Mikey Glazer here.