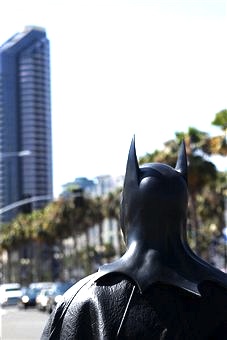 Comic-Con won't be moving to a city far, far away after all.
The Cannes of blockbusters will stay in San Diego, despite growing demand for passes that had organizers considering alternate cities including Los Angeles and Anaheim.
The massive comic-book convention, which has morphed into the single most important marketing springboard for genre films in recent years, capped its attendance at 125,000 attendees in 2007 — and has stuck with that number since.
The nonprofit had looked at proposals for larger venues after the San Diego Convention Center lease expired in 2012. The decision to stay keeps the convention in San Diego through 2015.
"We are grateful for the tireless efforts all three cities put into their proposals," said Comic-Con spokesman David Glanzer. "In the end, we feel this decision is the best for all those who attend Comic-Con and for the organization itself. We are happy that the community has worked with us to ensure that we remain there."
Now entering its 42nd year, Comic-Con has been hosted in San Diego since it began at the U.S. Grant Hotel in 1970. It moved into the newly built San Diego Convention Center in 1991.