Conan O'Brien's beard, which he started growing after his departure from NBC last year, has only a few hours to live.
Yes, the late-night talk show host's now-signature ginger facial hair will be no more after Monday night's telecast, if guest Will Ferrell makes good on his much-hyped threat to shave that sucker off.
"Circle (May 2) on the calendar," said Ferrell, in a video message that aired on "Conan" three weeks ago, "because I'm circling your face like a vulture who eats hair."
Now, we're no apologists for Conan's beard, as we, too, have grown nostalgic for the old, fresh-faced Conan. But there are so many more egregious chin squirrels gracing the faces of TV stars nowadays that we can't help but think that Ferrell's razor might be put to better use elsewhere first.
Here are four other TV stars whose facial hair could use a makeover — or a complete obliteration. Feel free to let us know which TV beards you'd like trimmed in the comments section.
1. Casey Abrams
We can't help but think that if Casey Abrams had just let Will Ferrell publicly shave him before last Thursday's "American Idol" results show, the baby-faced singer would still be alive and kicking on the Fox signing competition. Abrams is a true talent and will likely go on to a successful recording career — but his beard should probably switch publicists. And barbers.
2. James Lipton
The creative nature of Lipton's goatee only adds to the prentiousness emanating from the "Inside the Actor's Studio" host, whom comedians have been poking fun of for years. Take off your actor's mask, Mr. Lipton! And by that, we mean that you should totally let Will Ferrell shave your beard.
3. Guy Fieri
Okay, so we'd love it if Fieri — the bodacious host of NBC's "Minute to Win It" — were shaved out of the TV landscape all together. But we assume that's not possible. If it is possible, let us know. In the meantime, maybe he should become the new spokesman for Barbasol, turning his beard magically into flesh in the debut commercial — with co-star Will Ferrell doing the honors.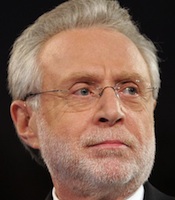 4. Wolf Blitzer
The only thing standing between Blitzer and the CBS news desk? His beard. Did Dan Rather? No. Did Katie Couric? Will Ferrell holds the key to your career advancement, Wolf — give him a shout.