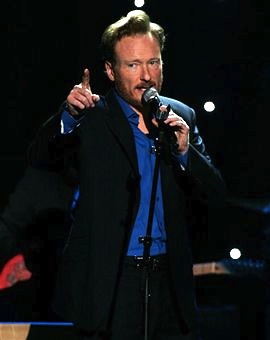 Conan O'Brien kicked off the Turner Entertainment annual upfront presentation at the Hammerstein Ballroom in New York with a song. The former "Tonight Show" host remixed Willie Nelson's "On the Road Again," changing the lyrics to "I just want to be on my own show again."
O'Brien isn't the only one who's happy about his new deal with TBS, which brings him back on the air Nov. 8. Turner executives gleefully touted Conan's move to cable as they unveiled their new schedule and several projects in development.
TNT will be hosting four nights of original programming now that the high-tech drama "Leverage" is moving to Sunday night. The network will air seven new or returning original series including "Leverage," "The Closer," "Saving Grace," "Dark Blue," "Memphis Beat," "Rizzoli & Isles" and "HawthoRNe."
Ray Romano's "Men of a Certain Age" will be returning to the network later this year.
O'Brien isn't the only NBC refugee who found a home at TNT: The cop drama "Southland" will be returning to the network in 2011 following its cancellation by the peacock last October.
Turner president Steve Koonin slyly thanked NBC for letting his network snag both shows.
Next year, TNT also will be debuting "Fallen Skies," the working title for a new series from Steven Spielberg and Noah Wylie, and "Franklin & Bash," a "buddy lawyer series" starring Breckin Meyer and "Saved by the Bell" alum Mark-Paul Gosselaar.
Sister network TBS will be airing the late-night team of Conan O'Brien and George Lopez in addition to the original series "My Boys," and "Are We There Yet?," a new animated comedy "Neighbors From Hell," which stars Will Sasso and Molly Shannon as married demons living in suburbia. TBS also greenlit "Glory Daze,"
a new series about college frat life in the '80s starring Tim Meadows as a political science professor.
Both networks also announced several shows that are currently in development.
TNT's decision not to continue its syndication deal with "Law & Order" was described as a major reason behind the long-running show's cancellation last week, but the move makes sense since the network is developing several original crime dramas including "Graysmith" from Ridley and Tony Scott;

Steven Bochco's environmentalist detective show "Green Detective"; "Miss Philly," a show about a Philadelphia police chief from executive producer/writer Jamie Foxx; and "Brain Trust," about an old-school detective working with a team of eccentric academics.
TNT also announced plans for an as-yet-untitled medical show produced by Don Cheadle and "Dear God," which will tell the story of a "team of humanitarians" who answer letters to God found at the U.S. Postal Service's dead letters bureau.
TBS' new series development include the comedy "Wedding Band"; "The Rabbit Factory," a detective show based on the novels of Marshall Karp; "The Catch"; "The Black Family"; and "Good and Evel," a cartoon comedy produced by and starring the team of Steve Buscemi and Stanley Tucci.