Big news in the publishing world of tablet publishing: Condé Nast announced on Monday that it has finally begun offering subscriptions for iPad editions of its magazines.
Until now, iPad versions of Condé Nast were available as single copy purchases.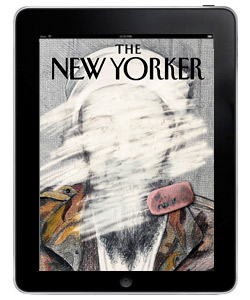 Condé Nast is rolling out the iPad subscription initiative with the New Yorker first — to be followed by Vanity Fair, Glamour, Golf Digest, Allure, Wired, Self and GQ in the coming weeks.
The New Yorker's print subscribers get free access to the iPad edition; the price for non-print subscribers is $5.99/month (4 issues) or $59.99/year. (That includes full access to the Web-based edition.) For an extra dollar ($6.99/month or $69.99/year) you get the print, iPad and web-based editions.
Subscriptions for the rest of those Condé titles will cost $1.99 per month or $19.99 per year.
For awhile, Condé Nast had balked at Apple's "Soup Nazi"-esque approach to dealing with magazine publishers over control of iPad subscriptions; now, it appears, those issues have been cleared up.
"We've been working closely with Apple for some time to be the first to deliver what consumers clearly want: easy access to premium packaged digital content via subscription," Condé president Bob Sauerberg said. "The iPad has created an incredible new way for readers to experience our award-winning magazines. Over time, we'll see subscriptions leading to greater and greater scale, helping to drive overall industry growth."
Sauerberg and the rest of the industry hope that subscription offerings will lead to better sales figures for iPad editions. Last fall, after an explosion in single copy sales, there was a dramatic fall-off in iPad issue purchases — one that publishers like Sauerberg blamed on lack of a subscription option.
Wired, which sold more than 100,000 copies of its debut iPad issue last June, saw sales drop to a per-issue average of 20,000-30,000 iPad copies.