Shocked stars react to the 31-year-old actor's passing in Vancouver on Saturday
Cory Monteith's death hit Hollywood hard on Saturday night. The "Glee" star was found dead in a Vancouver hotel room. No cause of death has been determined, but Canadian police have ruled out foul play.
Monteith was just 31 years old. He had struggled with drug addiction in the past, most recently entering rehab last April for one month. He had first went to rehab when he was 19, telling Parade magazine that he "had a serious problem" at the time.
Also read: 'Glee' Star Cory Monteith Dead at 31
Also read: Cory Monteith Dead: 20 of the Actor's Greatest 'Glee' Performances
See photos: Cory Monteith's Life and Career in Pictures
Celebrities and Monteith's co-stars tweeted their reactions: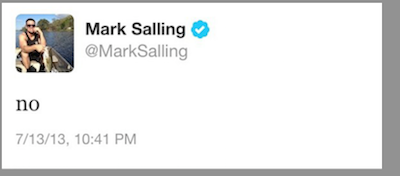 RIP CoryMontieth. You will be loved. Always.

– Kristin Chenoweth (@KChenoweth) July 14, 2013
Goodbye my amazing and beautiful friend. The lights in my world just grew dimmer. The world just lost one of our best. I love u so much…

– Adam Shankman (@adammshankman) July 14, 2013
OMG!! My Cory…

– iqbal theba (@iqbaltheba) July 14, 2013
I am so saddened to hear about Cory. He was such a great guy/Super-kind &warm. A tragic loss. My heart goes out to all his friends & family.

– Josh Sussman (@JoshSussman) July 14, 2013
My heart is broken!!! RIP Cory!! Your imprint will forever be on my heart. Too young to die.

– Karyn Colfer (@ColferKaryn) July 14, 2013
I HAVE NO WORDS! MY HEART IS BROKEN CORY WAS NOT ONLY A HELL OF A FRIEND HE WAS ONE AMAZING MEN THAT I WILL HOLD CLOSE TO MY HEART FOREVER

– Dot-Marie Jones (@dotmariejones) July 14, 2013
Cory Monteith lost the battle with addiction… So sad!! It hurts to see another person die from this.. #RipCoryMonteith #prayforhisfamily

– Tim Urban (@TimUrbanMusic) July 14, 2013
Devastated about the news of Cory Monteith – such an incredible guy – my thoughts are with his family and friends.

– Lance Bass (@LanceBass) July 14, 2013
Cory Monteith. Such a sweet guy. Tough night tonight. RIP Cory.

– Edi Gathegi (@iamedigathegi) July 14, 2013
My thoughts go out to the friends and family and colleagues of Cory Monteith. Always very sad to see folks lose that battle.

– Anthony Rapp (@albinokid) July 14, 2013
RIP Cory Monteith. Gone way too soon.

– Josh Gad (@joshgad) July 14, 2013
I just heard about Cory Monteith.. Rest in peace, everyone close to him and affected by this loss you're in my prayers.

– Chloë Grace Moretz (@ChloeGMoretz) July 14, 2013
"@JustJared: Cory Monteith Dead: Vancouver Police Releases Statement http://t.co/ZguaalsWtW" omg. Met this sweet man. RIP.

– Katharine McPhee (@katharinemcphee) July 14, 2013
R.I.P. @CoryMonteith. What a terrible terrible tragedy. So young. So talented. So sad.

– Greg Grunberg (@greggrunberg) July 14, 2013
Heartbroken by the loss of my friend @CoryMonteith Praying for his family and loved ones. Such a good hearted man that will be sorely missed

– Alex Anders (@alxanders) July 14, 2013
This is such sad news about @CoryMonteith – what an absolutely tragic loss of a very talented young man.

– zooey deschanel (@ZooeyDeschanel) July 14, 2013
Just heard about the death of Cory Monteith. So sad. Prayers 4 his family. Praying 4 Lea too! Words cant describe what they must be feeling

– Kim Kardashian (@KimKardashian) July 14, 2013
I have the powerful impression that Cory Monteith's co-stars are finding out about this via Twitter & that's breaking my heart, too.

– Emily L. Hauser (@emilylhauser) July 14, 2013