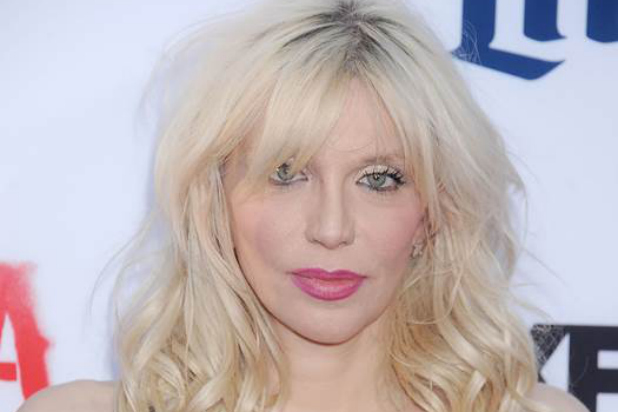 Courtney Love has not been spreading the love on Twitter. On Wednesday, the former lead singer of Hole and wife of the late Kurt Cobain engaged in a Twitter feud with Muslim-American activist, Linda Sarsour.
In a series of tweets, Love called Sarsour "a vile disgrace to women and all mankind," a "fraud," and an "anti-Semite." Sarsour is a pro-Palestinian activist. Love is of Jewish heritage on her mother's side.
Also Read: CW's 'Legends of Tomorrow' to Introduce Muslim-American Superhero
What prompted these harsh words? A medical fundraiser for a Somali-American woman in Columbus, Ohio, who says she was the victim of a hate crime.
On June 3, an apartment complex brawl in Columbus, Ohio resulted in two women being sent to the hospital. One of the women, Rahma Warsame, told the Columbus Dispatch she was struck by a man who told her "You all will be shipped back to Africa." No charges were filed due to what police say were conflicting stories from multiple witnesses, and police ultimately did not rule the incident a hate crime. Muslim activist groups are now demanding further investigation of the incident.
After learning of Warsame's situation, Sarsour established a fundraiser on the crowd-funding platform Launchgood to pay for Warsame's medical bills; as of June 8, the effort has raised more than $110,000.
Love said Sarsour's fundraiser "[seemed] like a publicity stint [sic]" and accused her of promoting "fake stories."
Sarsour was quick to respond and did not hold back. Here is the whole exchange:
A woman was brutally assaulted, fractures in her face and teeth knocked out. Man who beats her says "self defense." Are you serious? pic.twitter.com/Uhhlxuxsuc

— Linda Sarsour (@lsarsour) June 5, 2017
You're a vile disgrace to women and all mankind @lsarsour

— Courtney Love Cobain (@Courtney) June 7, 2017
I feel there's zero sincerity in her actions you claim. https://t.co/JTvB29FxTP

— Courtney Love Cobain (@Courtney) June 7, 2017
So Courtney posts a right wing article to make no point. https://t.co/upEwgLneX6

— Linda Sarsour (@lsarsour) June 7, 2017
Update: @Courtney is denying that Rahma Warsame was brutally assaulted in Columbus, OH. She's using her platform to say it was FAKE story. pic.twitter.com/JOokj4N1Ff

— Linda Sarsour (@lsarsour) June 7, 2017
Thanks @Courtney for clarifying what side u are on. Not the side of justice or u would be demanding accountability 4 brutal assault of Rahma

— Linda Sarsour (@lsarsour) June 7, 2017
I'm sorry Linda but I feel you're a fraud and you're inciting anti American rhetoric. I have zero faith in you and your plight. very fishy

— Courtney Love Cobain (@Courtney) June 7, 2017
Don't apologize for ur veiled anti-Muslim rhetoric. I will always fight for my country to be a better nation that respects all its citizens.

— Linda Sarsour (@lsarsour) June 7, 2017
Dissent is the highest form of patriotism. I will keep speaking truth to power. You aren't the only one who won't like it. https://t.co/TfryJ0c5UI

— Linda Sarsour (@lsarsour) June 7, 2017
that's my point, I never mentioned any religion. you just confirmed to me you're an anti-semite anti American fraud. Goodbye,I'm done with u

— Courtney Love Cobain (@Courtney) June 7, 2017
Thank God I never knew who @Courtney was before today and that was a great thing.

— Linda Sarsour (@lsarsour) June 7, 2017
Love how people post police account/reports & account of the aggressor who brutalized a black immigrant Muslim woman & yell "PROOF".

— Linda Sarsour (@lsarsour) June 7, 2017
I didn't even know nor care what religion she is. I was calling her out for exploiting a fake story, inciting hatred towards Americans

— Courtney Love Cobain (@Courtney) June 7, 2017
Welcome to America where a white woman "celebrity" uses her platform to deny that a Black immigrant Muslim woman was brutally assaulted.

— Linda Sarsour (@lsarsour) June 7, 2017