Despite its beginnings as a sort of anti-Oscars, Cinema Eye Honors gave its top feature award to Louie Psihoyos' "The Cove" on Friday night. The film's Brook Aitkin won for best cinematography and Paula DuPre Pressman and Fisher Stevens won for best production.
The best direction award went to "The Beaches of Agnes'" Agnes Varda, though. And R.J. Cutler's "The September Issue" walked away with the audience choice prize.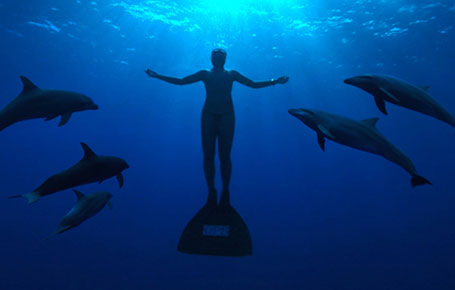 Launched in 2008 by filmmaker A.J. Schnack, Cinema Eye initially served to oppose a perceived neglect of quality in the selection of the annual Oscar short list.
Now in its third year, however, the event appears to have moved beyond that goal to a broader initiative of honoring contemporary achievements in nonfiction film — filling a void often created by the Hollywood-heavy awards season mayhem.
Luminaries of the documentary field showed up to present awards and receive them: Albert Maysles introduced a tribute to the late Canadian filmmaker Allan King; Ross McElwee accepted a Legacy Award from Barbara Kopple for "Sherman's March"; and Peter Davis ("Hearts and Minds") — "twined in the geezer department with Albert Maysles," he said — handed out the production award.
The ceremony had its adorably uneven moments, including a oddly playful DJ with a tendency for strangely erotic music cues and the appearance of documentarian Doug Block.
But the sincerity of the event percolated throughout every tribute and introduction, even the long-winded ones, in light of the sheer intensity of documentary filmmaking in the current climate for independent film — or, rather, in any climate for independent film. As Amir Bar-Lev, director of "My Kid Could Paint That" and the upcoming Sundance entry "The Tillman Story," recalled of his first feature experience: "My girlfriend at the time kept saying to me, 'Get a job.'"
Bar-Lev presented the Debut Feature Film prize to Michael Palmieri and Donal Mosher, directors of "October Country," a delicately shot portrait of one year in the life of a family in Herkimer, New York. The movie, which also won Outstanding Achievement in Original Music Score, was up for a Gotham Award last month. However, since it won't hit theaters until February, there's no chance that "October Country" will play a role in the Oscar season.
Along with "Burma VJ" and "Rip: A Remix Manifesto," its place at the podium on Friday may have been a rare opportunity to bathe in the spotlight.
The full list of Cinema Eye winners:
Outstanding Achievement in Nonfiction Feature Filmmaking:
"The Cove," directed by Louie Psihoyos, produced by Paula DuPre Pesman and Fisher Stevens
Outstanding Achievement in a Debut Feature Film:
"October Country," directed by Michael Palmieri and Donal Mosher
Outstanding Achievement in Direction:
Agnes Varda, "The Beaches of Agnes"
Outstanding Achievement in Production:
Paula DuPre Pressman and Fisher Stevens, "The Cove"
Outstanding Achievement in Cinematography:
Brook Aitken for "The Cove"
Outstanding Achievement in Editing:
Janus Billeskov-Jansen and Thomas Papapetros for "Burma VJ"
Outstanding Achievement in Grapic Design and Animation:
Tie: Big Star for "Food, Inc" and "RIP – Remix Manifesto"
Outstanding Achievement in Original Music Score:
"October Country": Danny Grody, Donal Mosher, Michael Palmieri and Kenric Taylor
Outstanding Achievement in an International Feature:
"Burma VJ," directed by Anders Ostergard, produced by Lise-Lense Moeller
Audience Choice Prize:
"The September Issue," directed by RJ Cutler
Spotlight Award:
"Beetle Queen Conquers Tokyo," directed by Jessica Oreck
Cinema Eye Legacy Award:
"Sherman's March, directed by Ross McElwee