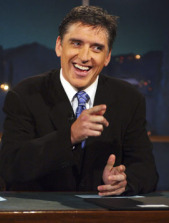 CBS "Late Late Show" host Craig Ferguson is taking on the Discovery Channel's annual "Shark Week" marathon in August.
He revealed the plan on his show Monday night.
Ferguson is a big fan of "Shark Week." In the past, he's described the Discovery Channel event as his "favorite holiday of the year."
On his Twitter, Ferguson joked that he was having second thoughts about tangling with the ocean's fiercest predators: "Watched Jaws on cable. Mistake. Hosting Shark Week now seems foolhardy. Sharks unaffected by sarcasm & self loathing. My only weapons."
"Shark Week" is a summer tradition on the Discovery Channel. The weeklong collection of Shark-themed documentaries and shows first ran on the network back in 1987.