"Creed," a spin-off of the "Rocky" franchise, punched well above its weight, earning $42.1 million for the five-day Thanksgiving weekend.
Even its $30 million haul for the three-day weekend represented the biggest box office gross of any of the seven films in the boxing series.
That was good enough for writer-director Ryan Coogler's $35 million production to place a strong third for the weekend behind reigning champion "The Hunger Games: Mockingjay, Part 2" ($52 million) and Disney/Pixar's "The Good Dinosaur" ($39.2 million).
Also Read: 'Creed' Comes Through Like a Champ in Box Office Debut
Now the movie, which stars Michael B. Jordan and Sylvester Stallone has gone from underdog to genuine contender, with analysts projecting it could top $100 million. Here are 5 reasons why:
1. A fresh twist on a familiar franchise
The first "Rocky" film hit screens in 1976, which boasts a stellar 93 percent Rotten Tomatoes score, and went on to make $117 million. But some of the five follow-ups have had diminishing returns: "Rocky V" made just $40.9 million.
So instead of just bringing Sylvester Stallone's Rocky Balboa back into the ring, the filmmakers cast him as a mentor to former foe Apollo Creed's son, played by rising star Michael B. Jordan. "It goes back to the roots of what 'Rocky' really is," Rentrak senior media analyst Paul Dergarabedian told TheWrap.
While nostalgia had a big role in the film's appeal, added Jeff Bock, senior box office analyst at Exhibitor Relations, "They took it in a new direction — more as a spin-off — and it appealed to more audiences."
Also Read: Critics Love 'Creed': 7 Reasons You Should See Sylvester Stallone, Michael B. Jordan Team Up
2. Jordan expands the audience
"Creed" managed to broaden its audience by appealing to a younger, more diverse audience with its African American director and main star, Michael B. Jordan ("Fantastic Four").
"He's hot right now," Dergarabedian said. "He's a terrific young actor, who is very personable. It was just perfect casting, great chemistry, which kept the 'Rocky' mythology alive."
But the new movie also managed to maintain interest of its core fans, who have followed Stallone over the course of six previous films. "It served the legion of fans that have been along since 1976," Dergarabedian said.
Also Read: 'Creed' Knocks Out $1.4 Million as 'Good Dinosaur' Roars to $1.3 Million at Tuesday Box Office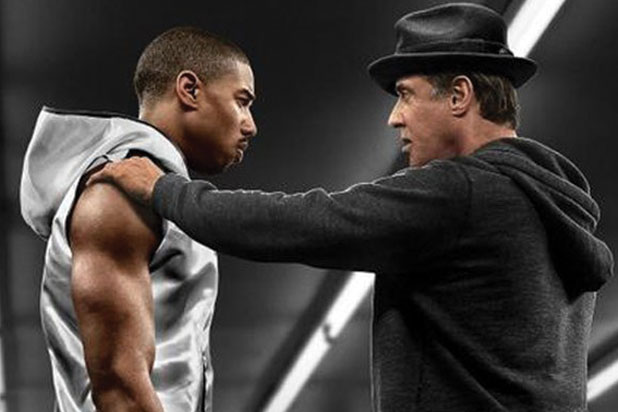 3. Knock-out word of mouth
A few months ago, when Hollywood seemed punch-drunk on boxing films like Jake Gyllenhaal's "Southpaw," "Creed" wasn't tracking well.
But the reviews were sensational — 92 percent on Rotten Tomatoes — higher than any movie opening last week. And audiences seemed to agree: The movie got a straight "A" CinemaScore.
"Word of mouth was huge," said Bock. "There is still power in film reviews as long as they are good — most people might've overlooked 'Creed.'"
And the buzz on the movie seemed to elevate it above a mere genre movie. "A really good movie, like this, is not just about boxing," said Dergarabedian. "'Rocky' was never just about boxing — it's a movie about human kind using boxing as condition. That's why it resonated."
4. Great timing in the ring
The film opened on Thanksgiving weekend, one of the most coveted release spots of the year. Opening against and "The Good Dinosaur" and the second weekend of "The Hunger Games: Mockingjay – Part 2" may have been difficult for many films, but "Creed" actually managed to break through by appealing to more male-skewing moviegoers.
"It was the right film at the right time," said Bock. "Thanksgiving is a time where we reflect on human kind, and 'Creed' is one of those movies that helps you do that — that's why studios go back to movies that tug on your heartstrings."
5. Title avoided case of sequelitis
Dergarabedian credited the success of the movie to the film's title as well.
"The title of the movie was key, because they didn't call it 'Rocky VII,'" he said. "They didn't have to hit you over the head with the fact that it is a 'Rocky' movie."