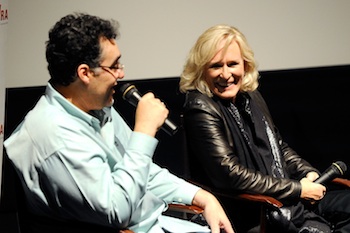 When Glenn Close sees a good part she goes after it — even if it takes decades.
Bringing "Albert Nobbs" to the screen was a 15-year effort on the part of Oscar-nominated actress, who first played the role in an Off Broadway production in 1982.
Something about the tale about a woman who pretends to be a man so she can work as a butler at a turn-of-the-20th century Dublin hotel registered with Close.
"It's a very complex issue, but it's very real," Close said at TheWrap's screening series of "Albert Nobbs" Monday night at the Landmark Theater in Los Angeles.
Also read: Christopher Plummer, Glenn Close, Nick Nolte — A Year for Overdue Oscars?
"There was something so poignant about the character and the story," she added. "I was just blindsided by it."
Close was so taken with the material that she did something she never had before — she acquired the rights to the story in the 1990s and co-wrote the script. After reaching out to award-winning novelist John Banville to help capture the Irish flavor of the film's setting, Close took out a pen herself.
Video Interview with director Rodrigo Garcia:
"I culled everything back," Close said. "I've produced things for TV before, and been heavily involved in the writing, but I've never been the writer myself."
It wasn't just crafting the script that consumed Close; she also had to convince herself that she could still play the role. To that end, she subjected herself to a full screen test in makeup before embarking on the project, donning a red wig and changing the shape of her nose.
Close ultimately decided that playing Albert as a middle-aged man ultimately enriched the character and the film.
"All that I've learned since [playing the part on stage] infused my performance," Close said. "I'd like to think that I'm better than I was 20 years ago."
She said that even though she was familiar with the role, she was constantly working on the character throughout filming and struggling to perfect the Irish dialect.
To create Albert's signature gaze — a pensive, borderline comic stare — Close drew on an unlikely inspiration.
The actress said she studied Charlie Chaplin films to capture the "sad clown" element of Albert, even jutting her feet out in certain takes to recreate the silent film star's signature walk.
Close told the audience that there are numerous instances of women assuming the guise of men throughout history, dressing up as soldiers to accompany loved ones to the battlefield or as cowboys so they could ride herd.
Close said that cross-dressing of the kind Nobbs practice continues up to the present day. The actress said women in Afghanistan still outfit their girls as boys before they go out in public, so they won't be harassed.
Rodrigo Garcia, who joined Close after the screening, added that Nobbs' story has a universal appeal beyond the particulars of cross-dressing.
He said the film is really about "…what part of you do you hide, do you repress, do you dress up?"