Alisan Porter became famous all over again when she won season 10 of "The Voice" in May.
A former child actor, Porter starred in commercials as a toddler, became the youngest winner on "Star Search" and soon after graduated to films and TV shows.
Her biggest job came at age 9, starring as a young street-savvy vagrant who follows in the footsteps of her surrogate father (Jim Belushi) in John Hughes' 1991 family comedy "Curly Sue."
Also Read: Rae Dawn Chong Blames Spike Lee for 'Soul Man' Racial Stigma 30 Years Later
The movie is chock full of adorable moments from the spirited young actress in her first leading role, and Porter remembers the late Hughes tailoring the part to her own unique talents.
"The singing for my character was added after I got the role," Porter, now 35, told TheWrap of the points in the film when she belts out some tunes, including the Star-Spangled Banner. "He put a lot of me in there."
Hughes also left a lot of room for the exuberant young talent to improvise.
Also Read: Fireworks, Pranks and Pot: 'Stand by Me' Stars Look Back on River Phoenix After 30 Years
"The 'Hubba hubba' line was an improv," Porter recalled.
She remembered it from her time filming 1989's "Parenthood," in which the boy who played her brother used the phrase in one of that movie's most memorable lines.
"I plagiarized at 9," Porter said with a laugh about the two words which also became memorable in "Curly Sue."
Watch Jasen Fisher's version of "Hubba Hubba" in "Parenthood":

Now see Porter's version of the line in "Curly Sue" at the 1:26 mark:

The film, also starring Kelly Lynch, employed a lot of "Three Stooges"-style physical comedy.
In one early scene, Curly Sue hits her streetwise father figure (Belushi) in the face with a two-by-four. "We had to do that take a million times," said Porter, remembering that she was afraid of hurting her co-star. "I was a total wuss. It got to the point where Jim said, 'Just hit me!'"
In another scene, Sue shows her deft skills with cards. "I had lessons for about a month before that scene," recalled Porter. "I remember the card guy coming with the decks."
Also Read: 'Stand By Me' Stars Share 25 Memories of 1986 Classic (Photos)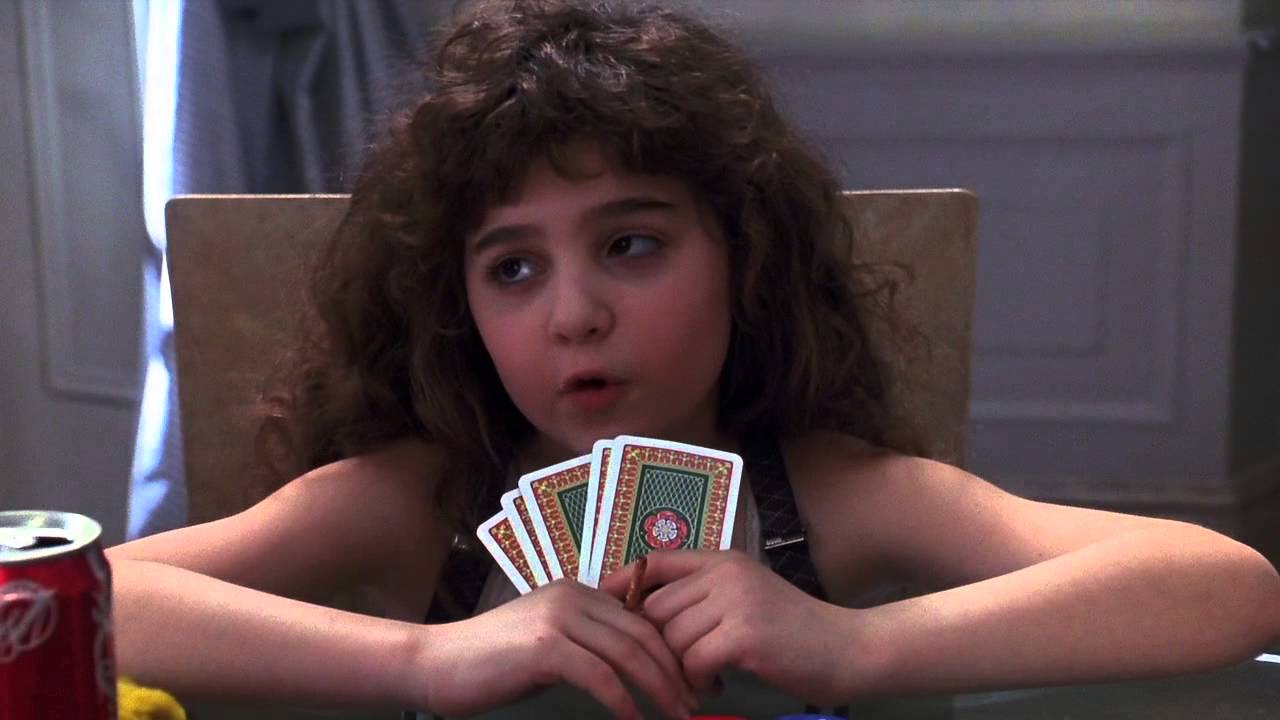 The toughest bit of physical comedy in the movie, according to Porter, came when she and Belushi threw themselves in front of a car as part of a scam for free food and whatever else the could con out of their mark, played by Lynch. "It was late and a freezing cold night in Chicago," Porter said.
But that didn't compare to her key scene in "Parenthood." "Puking on Steve Martin is a lot harder than anything I had to do on 'Curly Sue,'" she said.
Porter, who has been open about her past struggle with alcoholism, has been clean and sober for almost a decade.
Also Read: 'Growing Pains' Star Jeremy Miller: 'I Began Drinking at 4' (Video)
And part of what set her down that dark path, she told TheWrap, was her struggle to adjust to life after stardom.
"As a young adult I thought, 'What am I doing now'?," said Porter. "Getting a regular job didn't feel like an option. My ego was definitely in charge a lot. Sometimes it takes going down the wrong road a couple of times. I found a way out and a way to harness what I want to do to get another chance."
Now married with children, Porter is working on a new album and preparing to tour. She also plans to bring her family with her on the road. "You only live once and there are no rules," she said. "We're writing our own story."
Also Read: 'Spider-Man' Reboot 'Inspired' By John Hughes Movies, Will Feature New Villains Says Marvel's Kevin Feige
Showbiz runs in Porter's blood. Her mother, a longtime dance instructor to the stars, also appeared on Broadway.
"Like that Lady Gaga song 'Born This Way,' it runs in my family," she said, revealing that she has already spotted some natural abilities in her own young son and daughter.
"It's part of that waiting to see if they want to do it," she said, making it clear that she's not applying any stage mom-style pressure.
Indeed, Porter said she is the one who first expressed her own wish to perform as a young girl, with no extra pressure from her parents. And even when it came to carrying a feature film with her 9-year-old performance, she said she didn't feel any added stress.
"I didn't have training with acting," she said. "I just kind of knew what to do. I don't know if that's luck or DNA."
Writer-director Hughes, who's best remembered for "Sixteen Candles" and "Ferris Bueller's Day Off," didn't apply any added pressure to Porter on the set of "Curly Sue" either, she recalled.
"He never made me feel like he was the adult talking down to the kid," she said. "He was director and I was the actor. He was loving warm, kind, giving, patient and really funny. I remember him having great ideas and I also remember really respecting him."