John Oliver thinks that cable news needs an education in rock.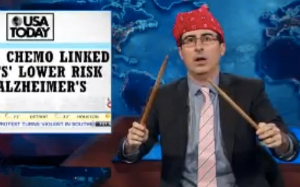 "The Daily Show" substitute host used CNN's new morning show "New Day" as exhibit A in his tutorial on when to use the word "rock" and its accompanying rhythms.
He noted that the program's daily news round up "Rock Block" featured stories that decidedly do not rock; among them tales of Pentagon layoffs and a study on Alzheimer's disease.
"I think we clearly have different ideas of what rocking it means, because mine involves leather pants and chainsaws," Oliver said. "Your's involves Alzheimer's and chemotherapy."
Also read: Emmys 2013 Nominations (Complete List)
Oliver said that when he hears the word "rock" linked with news, "I want to hear a story people can get pregnant to."
But he noted that CNN wasn't alone when it came to having a tenuous understanding of the musical genre.
"All the cable networks seem to think you need a hot thumping beat to absorb basic information," Oliver noted, over a clip that showed various cable programs introducing serious stories to a pulsating soundtrack.
"You've sucked the fun out of rock and the weight out of news," Oliver said. "It's like what the British people did to food — we removed both the flavor and the nutritional value."