Trevor Noah is everyone's favorite this month. And by "everyone" we mean millennials, who think they're the only people on the planet that matter anyway.
Throughout August, "The Daily Show" averaged 250,000 viewers 18-34, up five percent year over year and good enough to finish first among all talk shows on television. Yes, including "The Tonight Show," "The Late Show" and "Jimmy Kimmel Live," among others.
As a matter of fact, Noah's show was the only one not named "Watch What Happens Live" (+16%) to grow among millennials when compared with August 2016. By the way, all numbers in this story exclude reruns and include three days worth of delayed viewing.
Also Read: Trevor Noah Squashes People Upset Over Melania Trump's Stilettos: 'Who Cares?' (Video)
Back on broadcast, "The Tonight Show" managed 237,000 millennial viewers per original episode, down 38 percent from last August. That giant drop is not a typo: Jimmy Fallon was the biggest loser year over year, per Nielsen, hurting Seth Meyers' own final summer month behind him.
There's a bit of an asterisk here, as Noah did just eight original episodes this August. While that's consistent with his 2016, it's practically half of the 15 Fallon aired. Plus, Fallon's show (like Stephen Colbert's, Jimmy Kimmel's, Conan O'Brien's, etc.) is longer than Noah's, which matters when you're talking about average-minute basis. It's also much quicker to catch up on.
Finally, "Tonight," "The Late Show" and "JKL" actually begin 35 minutes later than Comedy Central's flagship late-night talk show, which means fewer people are up to watch it live. We don't have to explain what that means for Meyers and James Corden in their time slot.
Also Read: Trevor Noah: 'For a Guy Who's Not Racist, Donald Trump Sure Has a Lot of Racist Friends' (Video)
Here are August's late-night talk show rankings among millennials: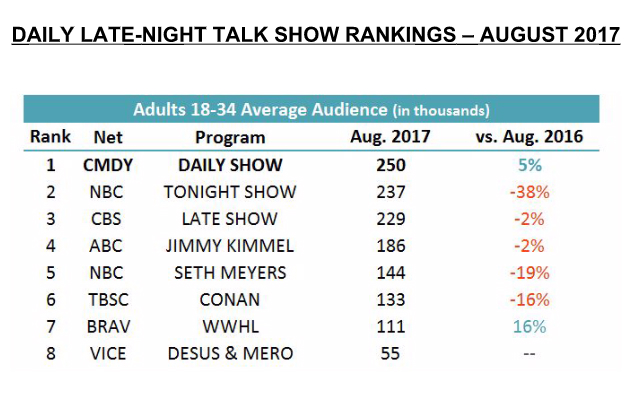 It's worth pointing out here that the broadcast guys (and most entertainment shows) target adults 18-49, so advertisers are interested in more than just the cord-cutting demographic. Still, millennials want to stand up and be counted, so we did that.