Dave Chappelle appeared on a San Francisco area radio program Friday morning to promote a weekend concert but spent much of the interview explaining his sometimes contentious stage presence, especially his demeanor during a July 22 charity performance at the Seminole Hard Rock Hotel and Casino in Florida.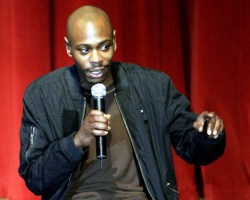 The reclusive "Chappelle's Show" star said that he didn't even get a chance to begin his routine that night because attendees in the front row began heckling immediately and that he was worried that it would become a "reverse Kramer" situation — a reference to the bigoted tirade "Seinfeld" alum Michael Richards launched into at a comedy club in 2006. Instead, he stayed on stage for 46 mostly silent moments.
Also read: Is Dave Chappelle Planning Another TV Show?
"Someone said I melted down or I had a nervous breakdown," said Chappelle. "I wasn't nervous at all. The thing is, it was an Indian casino and I felt that they were trying to get a reverse Kramer shot of me. In other words, I came out on stage and the YouTube extravaganza began — everyone's pulling their camera phones out. And that's cool for the first couple of minutes. And then the whole front row starts heckling me and apparently the whole front row was the Seminole Indians, whose casino it was, so security didn't want to tell them to be quiet.
"Now, this obviously wasn't the whole audience — there were thousands of people there. But in the front, I can see and hear everything. I was, like, okay, whatever. But at a certain point, you can't possibly expect me [to continue]. There's got to be a little bit of cooperation."
The following night, he apologized profusely for the July 22 incident, calling it a "wild night."
Here's the video of Chappelle's radio interview: