David Broder, a Pulitzer Prize-winning political columnist for the Washington Post, has died. He was 81.
The cause of death was complications from diabetes, the Washington Post said.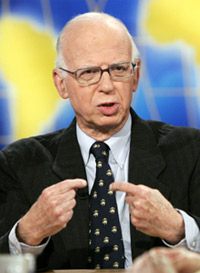 Broder, who was nicknamed the "Dean" of the Washington press corps, died on Wednesday.
"He was the best political correspondent in America," Ben Bradlee, former executive editor at the Post, said. "David knew politics from the back room up — the mechanics of politics, the county and state chairmen — whereas most Washington reporters knew it at the Washington level."
Broder had covered every presidential convention since 1956.
His last column for the Post ran on Feb. 6.
His family released this statement on Wednesday:
David spent his professional life with political leaders at all levels of society, from precinct captains to Presidents, on Capitol Hill, and in State Houses and City Halls in all fifty states. His greatest admiration and respect were always for the voters themselves, who would answer a knock on their door, let him into their homes, and share their observations on the issues of the day. Their passion for this country and its possibilities mirrored his own. To the countless thousands who, since 1953, inspired his curiosity and informed his reporting, we offer our thanks.
Read Broder's full obituary here.