Reports out of the Venice Film Festival have mostly been around which films we can knock out of Oscar best picture contention, with "Carnage," "Ides of March," and "A Dangerous Method" all suffering from scratch-that notices coming out of Italy.
It's been left up to the Telluride Film Festival to come up with one everyone could definitively place in the "in" column. That didn't take long: Reactions to "The Descendants" ranged from near-jubilation to actual jubilation when it unspooled Friday at a secret patrons-only screening with George Clooney and director Alexander Payne on hand.
The Colorado fest had three other notable world premieres in store in its first 24 hours: Glenn Close's three-decades-in-the-hoping passion project, the gender-bender "Albert Nobbs"; "In Darkness," a harrowing Holocaust drama directed by Agnieska Holland that Poland put in the running for next year's foreign-language Oscar race; and "Living in the Material World," Martin Scorsese's George Harrison documentary, which debuts in just a month on HBO.
Also read: Venice Fest: Roman Polanski Gets Mean, Keira Knightley Gets Hysterical
If those last three festival openers had trouble competing for attention, it was partly because "Descendants" immediately sucked up all the lovefest air in the room.
Set on the Hollywood-underutilized Hawaiian islands, Payne's first picture since "Sideways" is a pitch-perfect meditation on grieving in paradise — if you can even call it grieving, since the Clooney character's comatose wife left so much bad blood in her wake that she's openly berated on her deathbed by three different characters in three different tragicomic standout scenes.
In a Q&A, Clooney admitted he was "worried about the ability to be such a schlub" — albeit a wealthy, powerful schlub who just happens to do business meetings in Hawaiian shirts and sprint in unsensible sandals. In a departure from his character in "Up in the Air" (which premiered at Telluride two years ago), Clooney keeps the glibness off-screen this time — but there was plenty of that in his typically one-liner-riddled post-screening remarks, where he couldn't help deriding the filmmaker's fashion sense. Asked how Payne got him to cry for a critical scene, Clooney said, "He reminded me of how he didn't cast me in 'Sideways'" — a subject that came up earlier in the discussion — "so I let it all go. I also wet my pants at the same time."
Also read: Watch Out, Oscar: Here Come the Film Festivals
In the case of "Albert Nobbs," post-premiere support was greater for Close's performance as a woman posing as a man in 1890s Dublin than for the film itself, which engendered plenty of admiration and far less adoration. Close first played the title character in drag off-Broadway in 1982, and has spent the last 15 years trying to get a film transition going. Her portrayal of Nobbs as a repressed, asexual naïf is certainly bold enough to win Academy love, but the chatter on Telluride's gondolas had the title character's ultimate lack of self-realization leaving some viewers a little cold in the end. In a case of parts possibly being greater than the sum, Broadway veteran Janet McTeer also won considerable praise as the film's other 19th-century cross-dresser.
Famous rock essayist Greil Marcus introduced Scorsese's George Harrison pic by saying that the absent director's acclaimed Dylan doc, "No Direction Home" (another one-time Telluride premiere), "pales alongside this." The first-night crowd wasn't in unanimous agreement that Scorsese's Harrison trumps Scorsese's Dylan, though.
While "No Direction Home" focused on just a few short years of Dylan's career that fit a neat narrative of reinvention, the director here takes on an entire lifetime, whose lessons are messier — and sometimes dealt with cursorily here. The first half will be sheer bliss for Beatlemaniacs. A second half that deals with the solo years — or, in large part, the years when Harrison didn't do much of anything publicly — inevitably loses focus. It glosses over quick allusions to drugs and womanizing, until Scorsese finally finds his climax with Olivia Harrison's powerful account of her husband's reaction to the 1999 attacker in their home.
Plenty of first-nighters camped out for the evening in the festival's biggest venue, the refurbished school gym dubbed the Palm, for what was one taxing double-feature. "Material World" has a 210-minute running time (not including intermission and Q&A), while "In Darkness" ran a relatively succinct 145 minutes.
"It is not usual to go at 11:00 to see a 2-hours-23 minutes Holocaust movie," director Holland told the crowd, in slightly broken English, before her late-night premiere. "If you sleep, it is fine… If you wake up, you will be in the sewers."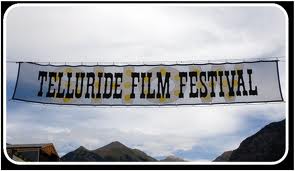 She meant that literally, as "In Darkness" is based on the true story of a group of Jews in Poland who spent 14 months living (and dying) underground until being liberated. Their initially less-than-half-hearted Polish rescuer is an unabashed anti-Semite who makes Schindler look like Simon Wiesenthal. With about 70 percent of the picture taking place in underlit sewers, Holland's movie is even darker literally than it is figuratively — though the atrocities within make it also every bit as much of a horror movie as "The Descent," and drew gasps from certain quarters of the Palm. (Or maybe, given the post-1 a.m. exit time, it was just sleep apnea.)
Fortunately, "In Darkness" is as gripping as it is grim, and Holland has a contender on her hands, notwithstanding the toughness of the sell and the need for arthouses to preemptively install the strongest possible bulbs in their projectors.
Holland told the audience she had just been commiserating with another festival guest, playwright Christopher Hampton (here with "A Dangerous Method," which hasn't unspooled yet), about their work together on 1995's Leonardo DiCaprio vehicle, "Total Eclipse." "It was badly received," she admitted, adding, unrepentantly, "I hope you are wiser this time."
Other pics soon to be unveiled in the four-day festival include Steve McQueen's "Shame," David Cronenberg's "A Dangerous Method," and North American premieres of Cannes favorites like "A Separation." Check back tomorrow for more coverage.