For the Fourth of July, West Coasters clamored to get all up in Diddy's grill: The rap mogul moved his infamous annual White Party from the Hamptons to Beverly Hills.
This time, he teamed up with fellow Twitter addicts mrskutcher and aplusk — that would be Demi Moore and Ashton Kutcher, for those non-followers out there — and their pet charity Malaria No More.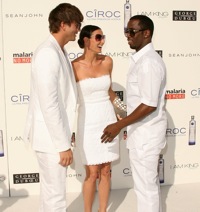 Needless to say, the tweeting was out of control. "A man of vision!" chirped Demi under a photo of Ashton in slitted 80s sunglasses. "we are dancing now!!!" iamdiddy announced. It's hard to believe they found the time.
But dance they did to a set that included an hour of Michael Jackson's greatest hits.
Joining in the tribute: Chris Brown, who proved he still has the moves (even if he no longer has the fans). While many have tried – ahem, Jamie Foxx – Brown actually nailed the King of Pop's moonwalk. And if any of the guests — including Mariah Carey, Nick Cannon, Lindsay Lohan, Jonah Hill, Shawn and Marlon Wayans, Viola Davis, Lil Kim, Estelle, Faith Evans, Blair Underwood, Rashida Jones, and Andy Samberg — looked less than fresh after the sweat session, MAC and Lab Series Skincare were on hand for touch-ups and treatments.
The reward for adhering to the strict all-white dress code: access. And some bedazzled Havainas and Lia Sophia jewelry…
Samberg and Jones also popped up poolside at the Hotel Shangri-L.A. in Santa Monica to host the SoBe Lifewater soiree alongside Samberg's pal Akiva Schaffer. Joel and Benji Madden manned the turntables for the bikini-clad crowd, who loaded up on burgers and played EA Sports video games in between dips in the pool…
But the real holiday hot spot: the 'Bu. Charlize Theron had a BBQ at her home which attracted some unwanted guests. Namely, the paparazzi. Meanwhile, Jenny McCarthy, Jim Carrey, and Jessica Alba got their grill on down the street…
But leave it to freebie-loving Tori Spelling to take full advantage of the sponsored beach houses along the coastline. On Friday, she stopped by the Sierra Mist pad for some waterslide action with son Liam and hubby Dean McDermott. And on Wednesday, paddle boarding lessons on the Silver Spoon turf.
Finally, on Sunday, Zooey Deschanel watched fiancé Ben Gibbard rock out at the Hollywood Bowl with his band Death Cab for Cutie backed by the LA Philharmonic. Fireworks brought the show – and holiday weekend – to a close.