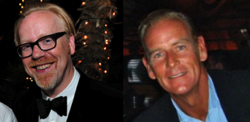 Discovery execs Tim Pastore and Rod Riegel have joined Tom Cosgrove's management team at the joint 3D-TV venture of Sony Corporation, Discovery Communications and IMAX Corporation, President and CEO Cosgrove announced Wednesday.
Pastore was named vice president development and production. He will be responsible for commissioning, producing and developing original content for the network.
Riegel will be the vice president of marketing and communications at the 3D Channel. Riegel will build the network's brand through on-air and off-air marketing and communications.
The network is scheduled to go 24/7 in 2011.
"Tim and Rod are strong leaders with extensive backgrounds in developing high-quality content and launching successful cable networks. Along with the other members of our management team, they will be instrumental in establishing the Sony-Discovery-IMAX 3D network as the leader in 3D television," Cosgrove said in a statement.
Pastore previously spent about two years as director of production and development at the Discovery Channel, where he was executive producer on several series. He was tapped for that job after working with Discovery's original productions division, where played a key role on the hit series "The Deadliest Catch." He has received Emmy nominations for his work on the Discovery Shows "Dirty Jobs" and "Deadliest Catch."
Riegel was director of communications for the launch of The Hub, Discovery's joint children's cable television venture with Hasbro. Prior to joining The Hub, he served as head of marketing for Fox Kids Worldwide and Fox International Entertainment Channels Worldwide. He was also involved in the launches of TNT and Cartoon Network.