Disney has an eye toward taking over the majority of 21st Century Fox — but how can one mega-media company possibly afford to buy another? It's simple, really: Fox is big, but Disney is HUGE.
At the time of this writing, Disney's market capitalization was up to $155.413 billion. Fox's was $50.49 billion — and that comes after the company's stock saw a huge boost after CNBC reported on merger talks.
While DIS shareholders did well today, FOXA ones had a killer Monday. More on that below.
Also Read: Disney Held Talks to Buy Most of Fox (Report)
And while Disney is three times larger than Fox in terms of market cap, the Burbank-based entertainment conglomerate is also far more efficient at delivering earnings to shareholders.
Disney's profit margin is 16.22 percent, per Yahoo Finance stats. Fox's is 10.36 percent. Hey, you're still making money, Fox investors — and you may soon stumble into a pretty nice payout, should this potential deal come to fruition.
Finally, let's compare the two in terms of headcount. Disney currently boasts 195,000 full-time employees, while Fox has 21,700. That's basically a 9:1 ratio. In other words, don't challenge the Mouse House to a softball game, Fox folks.
Also Read: Washington Post Critic to Boycott Disney Films in Solidarity With LA Times
We promised you some trading-day details. Here's how the week started for Fox and Disney stockholders (did we mention Disney stock trades for practically four times what Fox's does?):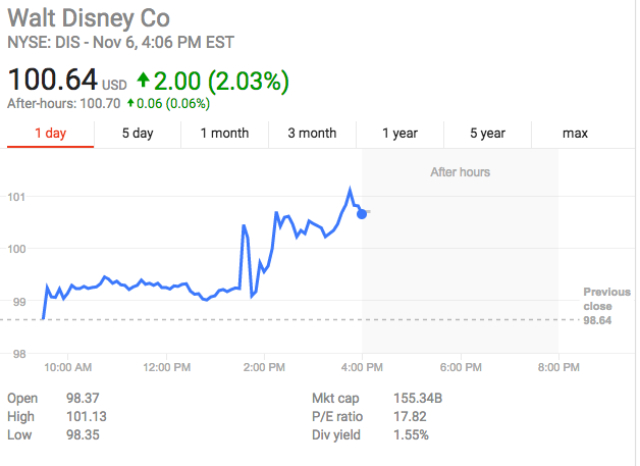 Also Read: Fox News Pulls Donald Trump Impeachment Ad After Audience Outrage
Should this deal go down, it won't be as simple as transferring all those people (and dollars) to the Disney lot. After all, initial reports suggest that Disney is interested in Fox's movie studio and TV production business, as well as the cable networks FX and Nat Geo.
But the deal would not include the Fox broadcast network, the company's 17 owned-and-operated local affiliates, Fox News and Fox Business, as well as Fox's sports programming assets.
Of course, any potential acquisition would have to clear regulatory hurdles — which is one reason why Disney is not interested in certain Fox assets. The company could not own two broadcast networks, for example, and attempting to combine Fox Sports with Disney's ESPN "could be seen as anti-competitive from an antitrust standpoint," per CNBC, which reported news of the talks.
Fox is set to report its earnings on Wednesday; Disney will do the same on Thursday. Both companies have conference calls scheduled with media analysts immediately afterward.