The entertainment giant shut down its 50-person virtual reality team, but it's on the trailing end of enthusiasm that's already fizzled
Tech famously has a hype cycle documented by the Gartner research firm. It's as follows: An innovation triggers inflated expectations, followed by a peak of enthusiasm, a trough of disillusionment and a slope of enlightenment. As far as Hollywood is concerned, the metaverse is deep in the trough.
The latest sign is Disney's elimination of a 50-person metaverse team championed by former CEO Bob Chapek earlier this week. But far from being an indicator of things to come, Disney is on the trailing edge of studios letting disappointing VR experiments quietly expire or peter out in obscurity.
Become a member to read more.
Riding the curve
Peak VR enthusiasm among the entertainment industry arrived in 2017, with a mix of fear of getting left behind and greed for the money to be made: Unfailingly optimistic researchers projected a $95 billion market for VR hardware and media by 2023. That year, Imax and Warner Bros. announced a slate of three VR experiences including "Aquaman" and "Justice League" as the studio's digital chief, Thomas Gewecke, hyped the technology's potential at conferences. Paramount announced a deal with Oculus, the VR startup the then-Facebook Inc. bought in 2014 for $2 billion. Fox made a VR game to go with "The Martian."
Theaters got in on the action, too. AMC invested $10 million in a startup, Dreamscape, with the promise of establishing six locations for immersive experiences in the U.S. and U.K. Regal and other chains opened VR centers with Imax.
The rush didn't last. By late 2018, Imax closed its virtual reality arcades and pulled back generally from the market. The AMC-Dreamscape deal produced two locations, one in Columbus, Ohio, and the other in Eaton, N.J. Gewecke, Warner's VR evangelist, left the company in 2020. By 2022, Paramount's VR ambitions had dwindled to licensing out "Top Gun: Maverick" to Dave & Busters for a VR arcade game.
Sundance canceled its groundbreaking New Frontiers program for 2023, citing the need for a "process of reimagination." The film festival had long played a critical role in popularizing VR: a 2012 exhibition, "Hunger in L.A.," helped inspire Palmer Luckey to start Oculus.
A technology in search of a market
Even as Hollywood retrenched, in Silicon Valley, passion for VR ran unchecked. The most notable sign was Facebook's decision in 2021 to change the name of the company to Meta Platforms. Meanwhile, Apple quietly pursued a mixed-reality headset project as its next big hardware category.
But even in tech's heartland, skepticism grew. By 2022, Meta executives were openly questioning its multibillion-dollar losses on Reality Labs, as the division built around Oculus is now known. As Apple's headset grew nearer to production — it could reportedly be released as soon as June — the company experienced rare internal dissent over the project, according to the New York Times. With reason: The headset might cost as much as $3,000, which could set it up to be an expensive "bomb," Bloomberg Apple watcher Mark Gurman wrote in January.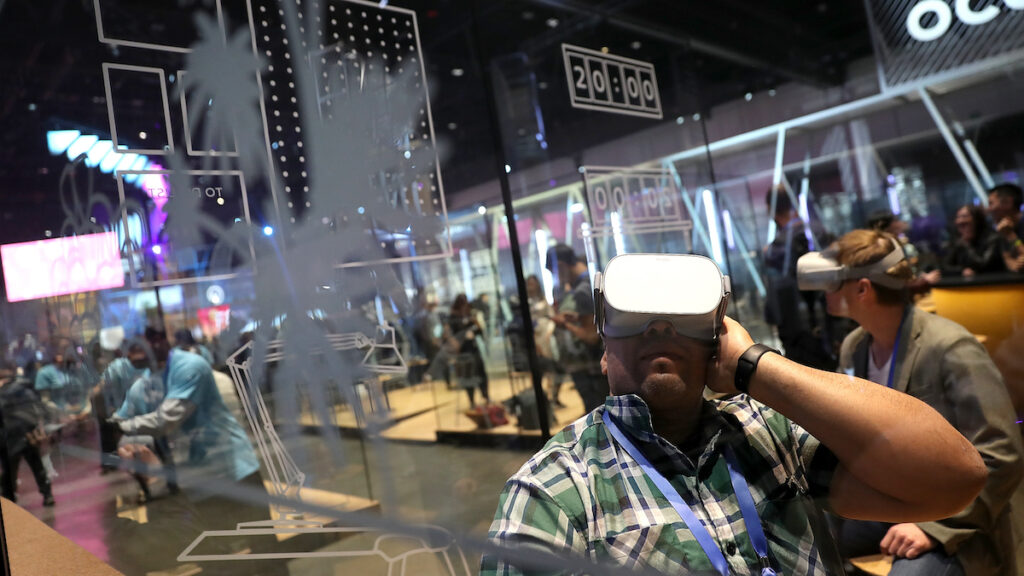 All the while, consumer interest never matched the industry's passion for the technology. The pandemic might have seemed like a prime opportunity to plug in and disconnect, since actual reality didn't have a lot going for it. But after a jump in 2021, VR headset sales fell 2% last year to $1.1 billion, according to the NPD Group — a far cry from the near-$100 billion market once forecast. Only one in seven households even had a VR headset in 2022, according to Parks Associates. That limited reach means limited appeal for mass-market entertainment distributors.
Sheer lack of interest may be the biggest factor holding VR back. A Parks Associate survey found that among consumers who hadn't tried VR, 47% said the reason they hadn't bought VR equipment is that they saw no use for it. Among those who had tried it, 37% cited the same reason. Far fewer people cited cost, discomfort or a lack of content as a barrier, suggesting that the problem with virtual reality can't be solved merely by improving the technology or throwing money at creatives to build more VR experiences.
An uncertain future
If any Hollywood player has a shot at making VR happen, it's Sony. The company released a new PlayStation VR headset in February, priced at $549.99. Sony Pictures is releasing a "Ghostbusters"-based VR game for the PSVR 2 and Meta's Quest 2 headset this year. Sony reportedly expects to ship 1.5 million of the second-generation headsets by March 2024, disputing a Bloomberg report that it had cut production in response to disappointing preorders.
The biggest threat, though, may be the shifting priorities of media and tech companies. Wall Street is pressuring studios to rein in their streaming losses, leaving little room to fund more theoretical investments in technologies like VR. And artificial intelligence has largely displaced VR as the new buzzword in tech investing circles. Even Meta CEO Mark Zuckerberg has declared that AI should be a new focus for the company — as the company's mass layoffs hit the formerly sacrosanct Reality Labs.
The hype cycle next predicts a slope of enlightenment, a period in which companies and consumers grapple with what's realistically possible with a given technology. It's possible that a technology that required strapping on a headset as well as a battery pack or offboard computer might always have been inherently limited. Even Neal Stephenson, the science-fiction author who coined the term "metaverse" in his 1992 novel "Snow Crash," is skeptical about people wearing goggles for hours at a time. We already have the devices needed to access the metaverse, he recently told Vox's Peter Kafka: They're called smartphones and televisions.