NBC's new drama "Do No Harm" has been pulled from the network's schedule after two episodes, the network said Friday.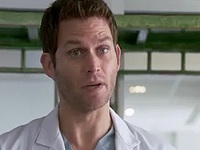 The series got off to a very poor start in the ratings with its Jan. 31 premiere, drawing a 0.9 rating/3 share in the key 18-49 demo — the lowest rating for an in-season scripted premiere in the history of the four networks. The show dropped another 22 percent to a 0.7/2 with its second episode Thursday.
The network will run repeats of "Law & Order: SVU" in its Thursdays at 10 p.m. timeslot for the next two weeks.
The "Dr. Jeckyll and Mr. Hyde"-themed series starred "Rescue Me" alum Steven Pasquale as Dr. Jason Cole, a neurosurgeon with an evil alternate personality that emerges every night at 8:25 p.m. and stays around exactly 12 hours. Which, interestingly, is not that much shorter than the series lasted.