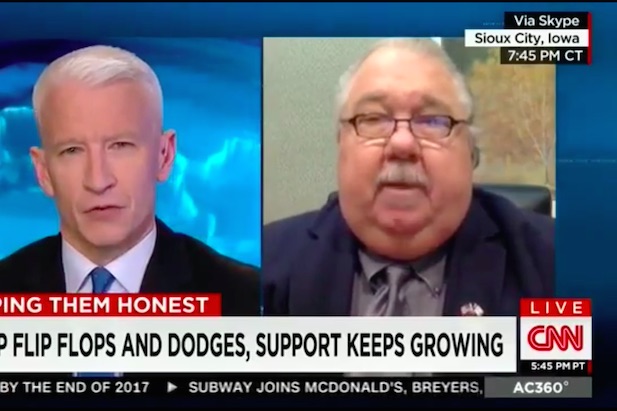 Donald Trump's campaign co-chairman Sam Clovis wasn't happy with Anderson Cooper on Wednesday, and he let CNN's silver fox know it.
"I don't appreciate this at all," he said when the anchor asked him about the GOP frontrunner flip-flopping on the Afghanistan War.
"I didn't have any indication that this was where we were gonna be going with this," he continued. "I thought we were gonna be talking about policy and where we are in the campaign and our polling."
Also Read: Anderson Cooper Does Awesome Donald Trump Impersonation: 'She's a Loser!' (Video)
Cooper pressed back that he was asking about Trump's Afghanistan policy, but Clovis wasn't having it. "If these are the issues you want to bring up, that's fine, and I'll let the other commentators comment on it."
The two then got into a back and forth over whether President Obama was trying to confiscate guns from responsible gun owners.
Also Read: CNN Staffers Complain to Jeff Zucker About Obsessive Trump Coverage, Bumping Anderson Cooper's Katrina Special (Exclusive)
Cooper tried to reason with Clovis that this wasn't the case. But again, Clovis wasn't having it.
Watch the video below.