Donald Trump continues to dabble with the idea of running for President, switching his voter registration from Republican to unaffiliated so he can run as an independent should he choose to enter the 2012 race.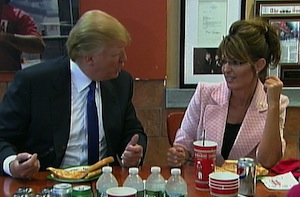 Registered in New York, Trump filed the paperwork on Thursday and his spokesman Michael Cohen told NBC News of Trump's decision on Friday.
He reiterated Trump's oft-stated position on running – he will run if the Republicans fail to nominate a candidate he believes can unseat Barack Obama.
Trump's candidacy would not get under way for several months as he will wait until his reality show, "The Apprentice," concludes in May of 2012.
Also Read: Donald Trump Says He Will Run for President – After 'Apprentice' Wraps
Trump had been planning on moderating with a Republican debate, but most of the candidates declined to participate because of Trump's potential interest in running. Trump then pulled out.