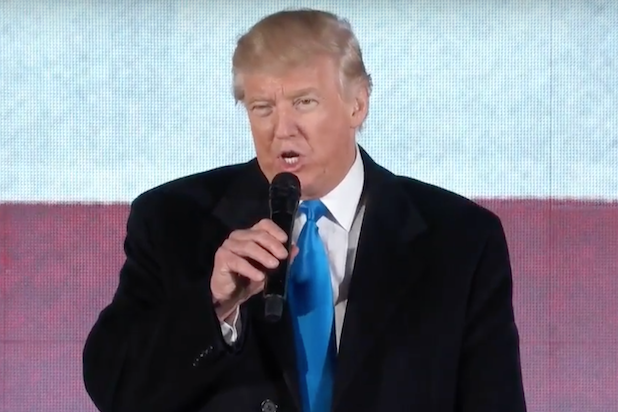 President-elect Donald Trump gave a short pre-inauguration speech during his "Make America Great Again!" Welcome Concert on Thursday without sparking Twitter outrage or bombastic headlines.
In a short speech in front the the Lincoln Memorial, Trump told the crowd he was "looking forward to tomorrow," referring to his swearing-in ceremony.
"We're going to see something so amazing," Trump said. "It's a movement that began, it's a movement that started, and it's a movement that we haven't seen anywhere in the world."
Also Read: Trump Inauguration: Who's Performing, Who Backed Out, Who Hung Up the Phone (Updating)
The president-elect wondered whether the concert, which featured performances by Toby Keith and 3 Doors Down, was "a first." But in fact, a celebratory concert for Barack Obama was held in the exact same spot in 2009. That event featured U2, Bruce Springsteen and Beyonce.
In a nod to his campaign slogan, Trump vowed to "make America great again for our people," including "the inner cities."
Trump also reminisced about the night he won the election, telling supporters that, "a lot of people didn't give us much of a chance but we understood what was happening."
"The polls started going up, up, up, but they didn't want to give us credit because they forgot about a lot of us," he said. "Well, you're not forgotten anymore."
Trump ended his address thanking his "great family" and his "incredible wife Melania," who he said were "so supportive, and it wasn't easy for them."
Also Read: Watch Trump's Pre-Inauguration 'Make America Great Again' Concert (Live Stream Video)
"It's going to change," Trump concluded. "I will see you tomorrow and I don't care frankly if it's going to be beautiful or if it's going to rain like crazy. It makes no difference to me."
But then added: "I have a feeling it's going to be beautiful."