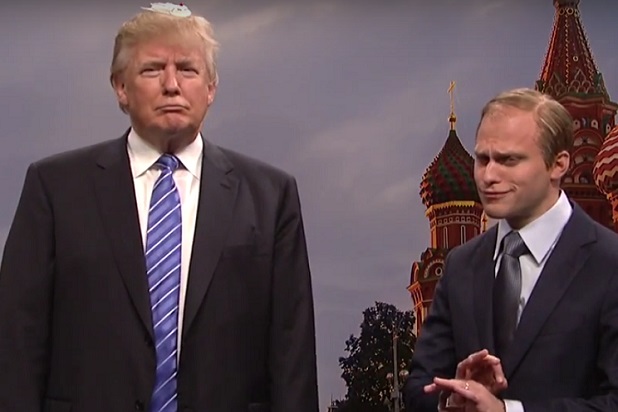 Never mind the Cuban Missile Crisis — Donald Trump narrowly avoids a far more dire scenario in a "Saturday Night Live" skit that didn't make the cut for the Nov. 7 episode, which the GOP presidential candidate hosted.
The skit takes the audience — or would have — to 2017, when President Trump's meeting with Vladimir Putin is threatened by a menacing presence: a slight breeze that could very well ruin Trump's hairstyle, and thus his standing on the international playing field.
Enter Scalp Team 6, an elite group of super-soldiers tasked with protecting a major American asset: Trump's coiffure.
Also Read: Larry David to Collect $5,000 for Calling Donald Trump a 'Racist' on 'SNL'
Shrunk down to microscopic size, the brave operatives attempt to stabilize the chief executive's hair against the wind. It's a perilous task, made dangerous by a random yeti and wild, wind-whipped strands. Sadly, there are casualties involved — but in the end, the mission is accomplished, and Trump's leverage remains as solid as his well-kept mane.
As Veterans Day winds down, watch the team of brave soldiers navigate a hairy situation in the video.