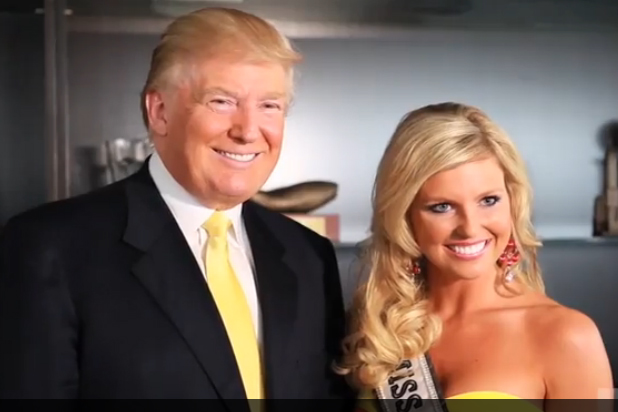 Donald Trump had once planned a reality show in which contestants in his Miss USA pageants would have competed against one another and other potential employees in jobs at his organization.
Jezebel unearthed clips from the scrapped show, which would have been called "Trump Town Girls," and which would have heavily featured Ivanka Trump.
The show, in development for E!, was scrapped by the Trumps after they decided there weren't enough interesting characters to follow, according to Jezebel.
Also Read: Here's What People Think of Donald Trump's Hollywood Walk of Fame Star Being Destroyed
E! Entertainment did not immediately respond to TheWrap's request for comment.
One clip shows Miss Indiana and Miss New York gushing over the opportunities afforded them after they participated in Trump's pageant. Miss New York Amber Collins, for example, had planned to go into teaching but was persuaded to try real estate instead, leading her to becoming one of the top brokers in the Trump organization.
Another clip shows the women disparaging a fellow contestant who had yet to make her appearance, and commenting on her attire as she makes her way to a job interview. "That's a slutty dress," said one.
"Nice ass shot there," said another as one took out her phone to Google the unnamed woman.
Also Read: Donald Trump Would 'Love' to Fight 'Tough Guy' Joe Biden
Trump Productions developed the show with a company called Stick Figure Productions and Mexican billionaire Carlos Slim, and since "Trump Town Girls" never made it to air, the companies partnered again more recently on a show that would have followed Miss Universe contestants.
That show was dropped in July 2015, right after Trump's presidential kickoff speech involved calling Mexicans rapists in discussing immigration reform.
Those remarks also ultimately led to Trump selling the Miss Universe pageant altogether.
Watch the "Trump Town Girls" clips here.