Dustin Hoffman is joining Jon Favreau's new film, "Chef," and the duo announced it really quickly Monday night on Vine.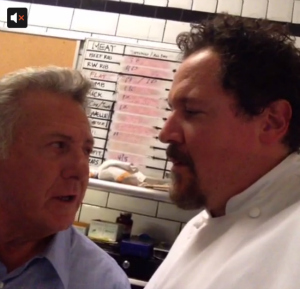 The announcement took all of 6 seconds, because, well — that's how Vine works.
Also read: Open Road Acquires Jon Favreau's 'Chef' Starring Sofia Vergara, Robert Downey Jr.
Favreau posted the short clip to his Vine with description, "New cast members. #Chef." The plural "members" may refer to Bobby Cannavale, who appears in chef whites for a split-second.
"Chef" also stars Scarlett Johansson, Sofia Vergara, Robery Downey Jr. and John Leguizamo. The film comes hits theaters on May 9, 2014.
Watch the Vine clip here: