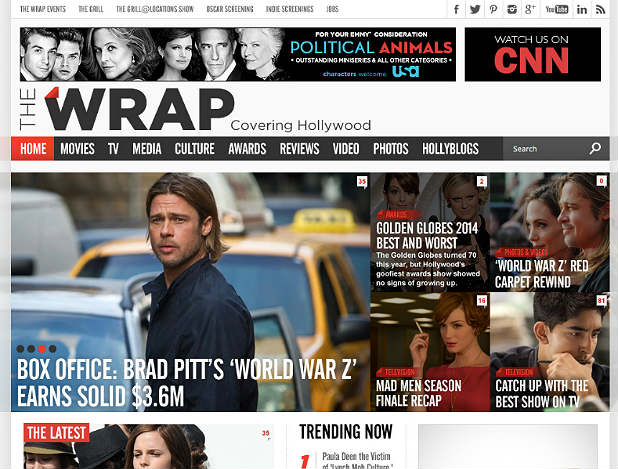 We're excited to present to you the latest version of TheWrap. It's been a six-month journey to get to our newest, 3.0 incarnation, a head-to-toe redesign that we hope corresponds to your needs and matches the spirit of our expanded content offering. We cannot be happier that this day is here.
On the new site you'll see cleaner graphics, easier navigation, more stories above the fold and direct links to our growing original video. We tried hard to respond to reader suggestions in making the site simpler to navigate while keeping the depth of content that starts conversations and brings readers back.
After a vertiginous ride through traffic spikes and content management system overload in our early years, we took the decision to rebuild the site from scratch in the latest responsive format and polish the design while we were at it.
The result is what you see before you today – a site that we hope you will find free of technical glitches, more readable, less cluttered, better organized and more inviting to your participation. There will definitely be bugs in the early days, so please be patient with us as we work them through.
Allow me to point out the new navigation bar at the top of the page, which will take you to individual landing pages by subject or by column. Below our new navigation bar you'll find "trending topics" that cross-references the conversation on Twitter with coverage and commentary at TheWrap.
Other features: We've moved "the river" of latest news toward the top of the page so you can easily find the most recent postings. And you can now go back through the river to previous pages to see what you might have missed earlier in the day. Our mobile site now matches the live site, which is how about an additional 1 million of you per month consume our content.
What hasn't changed? Lots of things, including the Hollyblog community forum, our comments section on Disqus, our distinctive columns for Steve Pond, Tim Molloy, Jeff Sneider, Alonso Duralde and others. Most of all what hasn't changed is our commitment to serving you with the most essential breaking news and analysis in the entertainment industry, 24/7. On that note, I would like to welcome two new staff reporters to TheWrap's growing team: please say hello to Tony Maglio, who joins our TV team after a successful summer internship, and our new media reporter, Sara Morrison, who does the same (and who has already challenged powerful people on her beat, who are giving her helpful career advice.)
Every website is a living, breathing organism that changes every day, if not every hour. So expect to see more changes day by day. Look forward to an upcoming PowerGrid presence on the home page, along with other innovations and tweaks. We welcome your feedback, tell us what you think!
And from the heart: thanks for being part of TheWrap adventure,
Sharon
Here's a quick video about it all: