"'This is a film for anyone who has ever been 17 or will be 17 — it's also about being close to a borderline sociopath."
That's how Danish director Lone Scherfig (left) descibed her much-buzzed-about "An Education" to the audience at a special screening of her film on Monday night, hosted by TheWrap.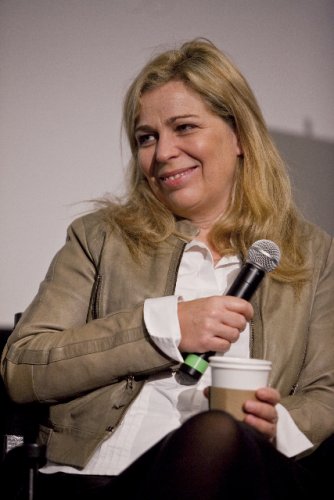 In a wide-ranging Q&A with TheWrap's editor-in-chief Sharon Waxman (below, with Scherfig) following the film, Scherfig discussed finding the right tone for the challenging material, which centers on the seduction of a 16-year-old schoolgirl (newcomer Carey Mulligan) by an older and unscrupulous businessman (Peter Sarsgaard).
The cheeky new coming-of age movie is not only being talked about as a serious Oscar contender; it's also making a major star out of Mulligan.
Scherfig told the crowd that it is a film about transitions.
Not only does it document a British schoolgirl's move into adulthood in the early '60s, it also captures a pivotal moment in English history, when the country began to shake off its post-war doldrums to emerge as the center of fashion and rock 'n' roll.
The maturation of Jenny, the film's protagonist, is inextricably linked to the time period that brought about Liverpool's famous foursome, the Beatles, as well as Swinging London and the British Invasion in popular culture.
"The things that exasperate Jenny in this film, there was no way to predict how things would change," Scherfig said. "Within a few years, the Beatles would be recording. The women of this generation just had such an appetite for the future."
The director added that when it came time to mix the soundtrack for the film, it was especially emotional to find herself in the famed Abbey Road Studios, where the Beatles recorded many of their albums and were photographed crossing the street for the iconic "Abbey Road" album cover.


"It was thrilling because I've looked at that cover since it was hanging in my room when I was a child," Scherfig said.
"In the film, it truly is an education for Jenny," Scherfig said about the film's raw issues. "There is a loss of innocence, but she is not a victim. This same girl eventually goes to Oxford. This was a detour that enables her to intensely experience things and art for the first time. It is an aesthetic and moral education for her, and it was hard to cinematically get that feel."
To do so, Scherfig said she drew on many of the theories espoused by Dogme, the artistic manifesto written by her countryman Lars von Trier that emphasizes a free-ranging style and a reverence for story and acting.
"You get a certain quality with Dogme," Scherfig said. "It's like French film — there's a beauty and subtlety that comes across better when you're not trying to be a perfectionist."
She also tried to bring out the humor in the story that was based on Lynn Barber's caustic memoir of a relationship she had with an older man, which mirrors the one Mulligan has with Sarsgaard in the movie. She encouraged a looseness on the set and pressed her actors to find and accentuate the moments of levity.
Finding the right person to play the lead role involved trolling through piles of DVD auditions and looking at more than 100 young actresses before settling on Mulligan.
"I thought she was younger than she was," Scherfig said of Mulligan. "She didn't need to be physically younger, I just wanted it to be convincing that she was a virgin."
Mulligan, an unknown who resembles Audrey Hepburn, ranks as the film's shining discovery, and Scherfig said guiding her performance was one of her greatest accomplishments. Mulligan, who at 24 was less far removed from adolescence than Scherfig, also helped the director stay true to what it was like to be that age.
"It was a fantastic experience to be there as a young actress was exploring her talent," said Scherfig. "We'd try different things out, and then say, 'No, that's not Jenny.' She has a wide range as an actress even though she hadn't had much experience."
That's about to change. As Scherfig noted, the young actress has already been lining up follow-ups to her acclaimed turn in "An Education," including a role as Gordon Gekko's daughter in "Wall Street 2." She also has a small part in Jim Sheridan's "Brothers."
"I'm so excited, I can't wait to see her in" the "Wall Street" sequel, Scherfig said. "She did so many casting sessions for this film that I'm happy she'll never have to go to a casting session again."