On September 12, 2001, virtually every newspaper in America – if not the world – ran a front cover depicting the attack on America.
Today, the eight years later, virtually every newspaper in America – if not the world – is choosing to forget — at least on their covers.
In New York, though, here's how the newspapers covered it on the day after 9/11, the seventh anniversary, and today: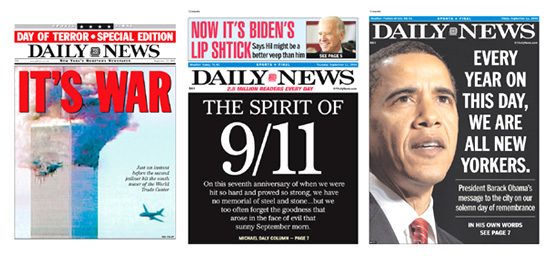 Metro — one of two free dailies in New York — and Newsday — the city's oft-forgotten third tabloid — ran photos of the always-eery memorial beams of light shooting up from lower Manhattan.
Interestingly, among major national papers, the Los Angeles Times and Chicago Tribune make no mention of 9/11 or its anniversary on their covers.
The Wall Street Journal – its namesake corridor in the Financial District just steps from the World Trade Center site – chose to remember the Shanksville, Pennsylvania site where United Flight 93 crashed on September 11, 2001. (The USA Today also ran a front page story on the Flight 93 memorial.)
Some papers, though, did pay tribute. In Philadelphia, the Daily News ran a big front page story entitled "9/11 + 8." West Hawaii Today, in Kailua Kona, ran an extensive front page package, including a timeline of the tragedy.
One prominent international paper – London's Guardian – ran a cover story on the anniversary accompanied by an image no one will ever forget.