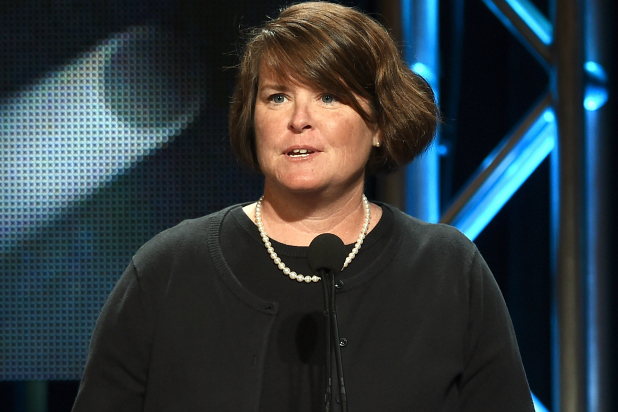 Longtime Discovery Communications executive Eileen O'Neill is leaving the company on her 25th anniversary this May. She made the announcement herself via an internal memo on Friday, which was obtained by TheWrap.
In her note, O'Neill recounted many of her successes with her team, including the ratings hit that was "Jon & Kate Plus 8" and the phenomenon of Shark Week.
Plus, "We introduced a sweet baker and a couple of fast and loud car guys to our global audiences; we celebrated five more births with Jim and Michelle Duggar since we first met them in 2004; we held hands and held our collective breath watching Felix Baumgartner ascend to Emmy-winning heights and Nik Wallenda power-walk across the Grand Canyon and into history," she penned.
O'Neill continued: "We cheered as Prince William and Kate said "I Do" to our global audiences Live; we said prayers for and with our talent (both crew and on-air characters) as they ventured to some of the harshest locations around the world, some never to return; one dark September day, some of us huddled with colleagues and strangers in offices, waiting for an all clear signal that it was safe to leave One Discovery Place."
"We kept audiences hooked on chopper builders and gold seekers; we took risks to find the first images of a giant squid and we crashed a 727 airplane for the sake of aviation safety; we found a little couple big on heart and a medium full of love; we never shied from controversy whether it was with Muslims in Michigan, Sarah in Alaska or Amish folk in places which surprised," she added.
O'Neill will no longer be with Discovery Communications effective May 1.
Also Read: Comcast-TWC Rips Discovery, Netflix in FCC Merger Comments
In August 2014, O'Neill was named to the newly created position of Global Group President, Discovery Studios, which she was set to assume in March.
She was formerly the Group President of Discovery Channel, Science and Velocity Networks, where O'Neill oversaw the strategic direction at the three networks including development, programming, production, digital media, marketing, research and communications.
Also Read: Scott Lewers Named SVP of TLC's Multi-Platform Strategy
Here is her full memo:
Dear Teams,

Hope this note finds East Coasters staying warm and West Coasters not acting too smug:)

I want you to know, effective May 1, 2015, I will no longer be at Discovery Communications. The date is significant as it marks my 25th anniversary with this truly amazing company (not including the four months of unpaid internship labor that preceded my hiring date!).  

I realize not everyone will miss my emoticon-laced memos, sent at all times of the night and day, but I know I will miss you guys.  Through incredible successes, and not a few nail-biting challenges, we always delivered as a team. 

Together, we still hold the highest prime delivery this century of any reality show on all major ad-supported cable networks for W25-54 (4.1M) and W18-49 (4.6M)  (Jon and Kate); we introduced a sweet baker and a couple of fast and loud car guys to our global audiences; we celebrated five more births with Jim and Michelle Duggar since we first met them in 2004; we held hands and held our collective breath watching Felix Baumgartner ascend to Emmy-winning heights and Nik Wallenda power-walk across the Grand Canyon and into history; we cheered as Prince William and Kate said "I Do" to our global audiences Live; we said prayers for and with our talent (both crew and on-air characters) as they ventured to some of the harshest locations around the world, some never to return; one dark September day, some of us huddled with colleagues and strangers in offices, waiting for an all clear signal that it was safe to leave One Discovery Place; we kept audiences hooked on chopper builders and gold seekers; we took risks to find the first images of a giant squid and we crashed a 727 airplane for the sake of aviation safety; we found a little couple big on heart and a medium full of love; we never shied from controversy whether it was with Muslims in Michigan, Sarah in Alaska or Amish folk in places which surprised; and, of course, we unleashed mega sharks (and a seal named Snuffy) for record-breaking Shark Weeks.

This isn't so much a goodbye note as it is a note to thank you.  I have always said that I was spoiled by working with the best teams in the business; that truth has never diminished. The talent at DCI nets is phenomenal, including all my friends in operations, IT, Legal, Sterling Uplink, Business Affairs, Finance and Sales – – you guys made all us network people great.  And God Bless IT's Rodney for keeping my Blackberry running! 

With unabashed admiration and affection, EO