"Game of Thrones" alum Emilia Clarke and "Crazy Rich Asians" hunk Henry Golding meet-cute in London with the help of some unfortunately aimed bird poop in the trailer for the new big-screen rom-com "Last Christmas."
Emma Thompson co-wrote the script (with Bryony Kimmings) and co-stars as the mother of Clarke's character, an aspiring singer stuck working as an elf in a year-round Christmas shop in London — with a boss (Michelle Yeoh) who dubs her "Lazy the Elf."
Then she meets the too-good-to-be true Tom (Golding), who manages to break through her barriers and help her cope with past traumas as any self-respecting rom-com hero should.
---
Also Read:
Emilia Clarke Thanks 'Game of Thrones' Fans as Show Ends: 'And Now Our Watch Has Ended'
---
Paul Feig ("Bridesmaids") directs the film, which also features the music of the late George Michael, including the bittersweet holiday classic of the film's title. The film will also premiere brand new unreleased material by Michael, who sold more than 115 million albums and recorded 10 No. 1 singles before his death on Christmas Day in 2016.
The film is produced by BAFTA winner David Livingstone for Calamity Films, Emma Thompson, Feig and Jessie Henderson for Feigco Entertainment. The film is executive produced by Sarah Bradshaw.
Universal will release "Last Christmas" on Nov. 8.
Watch the trailer above.
From 'The Cheat' to 'Crazy Rich Asians,' a Brief History of Asian-Americans in Film (Photos)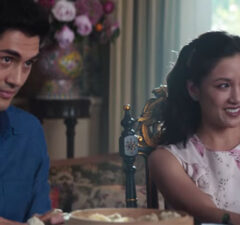 (Tap photo and swipe to view gallery)