Last updated: Friday, Sept. 8
Emmy voting already ended weeks ago.
With the onslaught of FYC campaigns that began days after the Oscars finally over, now it's the fun part — 12 hours of Emmy awards shows split over three nights. There are also about 35 official and unofficial parties stretching from now until the afternoon after the big show.
Also Read: Emmys 2017: Nominees From 'Veep,' 'This Is Us' and 'Black-ish' Do Drinks Together (Photos)
Here's the Party Report's guide to where Donald Glover, the grand dames of "Feud: Bette and Joan," "Westworld" cyborgs, and "This Is Us" breakouts will celebrate the year in TV.
Audi
Thursday, Sept. 14, 8 p.m .
The Highlight Room
Boozy, packed, and going late, the symbiotic talent, publicity and media cliques loves this annual jaunt.
Many may be missing out this year as Audi moves to a more intimate space — the Highlight Room atop the Dream Hollywood in Hollywood. (Last year, this party served as opening night for last year's sparkly West Hollywood venue debut, Catch.)
Audi is an official TV Academy partner. That means they'll be shuttling hundreds of nominees and presenters to the two Creative Arts Emmys, the main show, and this bash. Because Audi is studio and program agnostic, they draw well from across the spectrum of nominated actors, directors, and producers.
No need to worry about falling in the pool while sauntering out of one of the cabanas — it will be covered.
Also Read: Emmys 2017: Insider Details on 23 Parties Toasting This Year's Nominees
Entertainment Weekly's Pre-Emmy Party
Friday, Sept. 15, 8 p.m.
Sunset Tower Hotel
When Donald Glover supervises the dance circle and Cuba Gooding Jr. gets down with stars of "Orange is the New Black" like he did at last year's event,  it's a real party.
The Party Report once called this the Vanity Fair Oscar Party of the Emmys. This rings more true as Jess Cagle and Henry Goldblatt move in to the Sunset Tower, VF's former Oscar night HQ. Last year's EW ringmaster, DJ Michelle Pesce, is back to get many many stars of TV off the walls.
We have no idea how they are going to fit everyone in to this intimate space without a major build out.
Performers' Nominee Reception
Friday, Sept. 15, 7 p.m.
Annenberg Center for the Performing Arts, Beverly Hills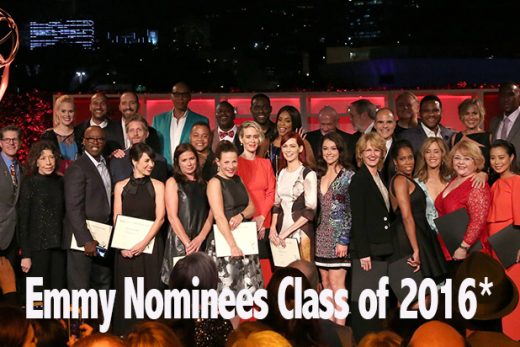 There are lots of good reasons to go to the Academy's official pre-party for the most celebrated of all nominees, the actors.
The most overlooked incentive is the free year-long subscription to People magazine (print or digital – your choice) handed out in the goodie bags. Rarely is a Hollywood sponsorship this on-the-nose and organic. Good job, everyone.
The highlight: All the nominees take a class picture, like the one above from last year.
BAFTA LA TV Tea
Saturday, Sept. 16, 2 p.m.
The Garden at the Beverly Hilton
Confusing awards weekends, the Brits' premiere arts advocacy and networking group brings their popular Emmys weekend party to the home of the Golden Globes for the first time. BBC America is the lead sponsor with support from the GREAT Britain Campaign fueling the afternoon soirée.
Also Read: Why the Oscars' Envelope Snafu Didn't Hurt Its Chances With Emmy Voters
The TV Industry Advocacy Awards
Saturday, Sept. 16, 2 p.m.
TAO
Keegan-Michael Key, Chrissy Metz, and a star from "Stranger Things" will be honored for their charitable work in an intimate, quieter event on the Emmy weekend calendar. Full details here:
Also Read: Why Chrissy Metz Is Guaranteed to Win at Least One Trophy on Emmy Weekend
FX and Vanity Fair
Saturday, Sept. 16, 5 p.m.
CRAFT LA
FX has 55 nominations.
With that many faces from "Atlanta," "FEUD: Bette and Joan," "Fargo," and "Better Things," John Landgraf and company deserve the two parties they are having. After this one, they will do it again the next night with their corporate cousins from Fox TV and the Fox Studios. George Clooney and Rande Gerber's Casamigos Tequila will be poured at this one in Century City.
MPTF's 11th Annual "Evening Before" Fundraiser
Saturday, Sept. 16, 8 p.m.
The Lawn at Century Park
The Jon and Vinny's guys are cooking. That's reason alone to seek out this precious invite, if your cold, dark, uncharitable heart would not otherwise have made a big enough donation to support aging film and TV veterans in their time of need. Corporate partners include Delta Air Lines, Ford, Netflix, People TV, and Target, so if you know someone at one of those companies, maybe they will take you. Otherwise, call Jeffrey Katzenberg back when you're an A-lister.
Also Read: 'Black-ish' Creator Kenya Barris on Preparing for Yara Shahidi to Leave the Show for College (Video)
Sunday, Sept. 17, After the Telecast
Governors' Ball
LA Convention Center
Eleven years before gold medals will be handed out in the convention center for table tennis and basketball at the 2028 LA Olympics, the theme of this year's Governors' Ball is "Golden Grandeur." Why does this party need a theme at all? There have been some embarrassing ones over the years, like waiters masked with face paint.
Since there is no booze inside the show itself, the theme should be "thank the lord that long boring show is over." With hundreds of glasses of champagne cued up by the entrance, it already kind of is.

Fox, FX, 20th Century Fox TV and Nat Geo
Vibiana
This is the second of FX's two weekend bashes, with corporate cousins from FOX broadcasting, the studio, and Nat Geo. That means you'll see "This Is Us" stars roaming here as well. With all of FX's prestige talent like Donald Glover, Susan Sarandon, Jessica Lange and Ewan McGregor mixed in with the hilarious and criminally under-appreciated Pamela Adlon, this is a hot ticket.
They are smart to keep this downtown.
Also Read: 'The Handmaid's Tale' Star Elisabeth Moss Talks Show's Politics, Teases Season 2
HBO Emmy Night
Fountain Plaza at the Pacific Design Center
HBO always packs an elaborate production design in to their Emmy night bash. This year, they are taking design inspiration from a British seaside royal residency built "in the style of India and China".  A thirty foot wide chinoiserie pagoda and a garden of giant jade trees will be a central focal point.  Billy Butchkavitz returns to design the event for the 19th Emmy night in a row.  Wolfgang Puck will be cooking a massive buffet dinner.
Netflix
NeueHouse in Hollywood
With 92 nominations, Netflix is the second most nominated distributor in the race. As impressive as the number, is the breadth of recognition. Categories range from prestige dramas ("The Crown") to comedy (Sarah Silverman), the alliterative Amanda Knox doc, and their biggest stars who are not even close to being able to order a drink at the bar, "Stranger Things". More intimate than rival HBO's bash, Netflix usually also celebrates with casts at chief Ted Sarandos' home the night before.
Hulu
Otium (222 Hope St., Downtown L.A.)
Hulu's event is a small gathering for nominees and executives, focused mainly on "The Handmaid's Tale".
AMC, BBC America, and IFC
Boa, West Hollywood
Calling all "Planet Earth II" fans!
While the iguana that outran death by a snake herd and the fighting dinosaurs will not be on the list, 600 other guests of the "smart" channels  will flock inside. "Planet Earth II" is the most nominated nonscripted/nonfiction show. Take that, drag queens, singing wannabes, castaways, Bachelorettes, dancing has-beens, and Snoop Dogg.
Together, these nets have 23 nominations. Myles Hendrik is on the decks.
But wait … there's more …
An Emmy partner from Italy is keeping the party going sixteen hours after the telecast ends. Ferrari Trento, the Academy's sparkling wine partner from northern Italy, is finishing off Emmy season by bringing its award-winning wines to an Italian luncheon downtown on Monday afternoon.
The Golden Globes are four months away … carb up, Hollywood.
All events are private and by invitation only.
Please send invitations, bookings, and updates to the party patrolling columnist at Mikey@thechimp.net.