"Is everyone hanging out without me?"
It's not just Mindy Kaling's first book title.
As Sunday night's Emmy telecast approaches, a week of parties fills up, sets shut down, and all anyone in the TV industry seems to be talking about is which parties they're going to and who's in charge of the list. Well, that and "Breaking Bad."
Before those two topics merge in to one at AMC's after party (which makes the cut), here's the top 10 parties with the strongest cocktail of guest list, awards prowess, and industry "FOMO" (Fear of Missing Out)"
NETFLIX
London Hotel Rooftop, Sunday at 10 p.m.
Ted Sarandos and Jason Bateman at a Netflix party earlier this season.
Why It's Hot: When you choose Sunday night for your party, it means you think you're going to win. Back in the 90s when the Weinsteins were in their Bar Mitzvah phase,  even they held their parties on pre-awards Saturday nights.
Netflix got off to a good start, winning the very first Emmy handed out this year at the Creative Arts Emmys Sunday afternoon. The "new kid" with deep pockets has been humble, with a trade ad congratulating "all of the 2013 Emmy nominees" without naming any names. If they win big on Sunday, there will be a traffic jam of cars heading up San Vicente.
The London Hotel: Scene of the New Bash on the Block
Richard Plepler, Julia Louis-Drefus and Michael Lombardo
HBO
Sunday Night, Fountain Plaza at the Pacific Design Center (off San Vicente), West Hollywood
Why It's Hot: Talent reps at a certain Yom Kippur breakfast-dinner were already complaining about not being able to get their clients in to this.  On the other side, "Vice" creator Shane Smith, whose show airs on HBO, said that despite 450,000,000 online views pre-HBO, bringing his brand there has been "a whole other world" in terms of industry recognition.  The same is true of their parties .
While others take over a venue, HBO always builds a custom wonderland from the ground up each year and seems almost too pretty to actually party in.  Somehow, even the golf trailer bathrooms are seamlessly molded in to the decor. This year's grounds has a blue and green peacock theme. The one constant is the 9:30 p.m. trophy flood, something that should continue with their 110 nominations and early returns for "Behind the Candelabra" at last Sunday's Creative Arts Emmys.
Last year's golden glow.
When you're starving, eat here. Wolfgang Puck serves Maine lobster. Due to his role in "Clear History," the face of AMC, Jon Hamm, could make an appearance at the prestige rival's bash. Meanwhile AMC itself…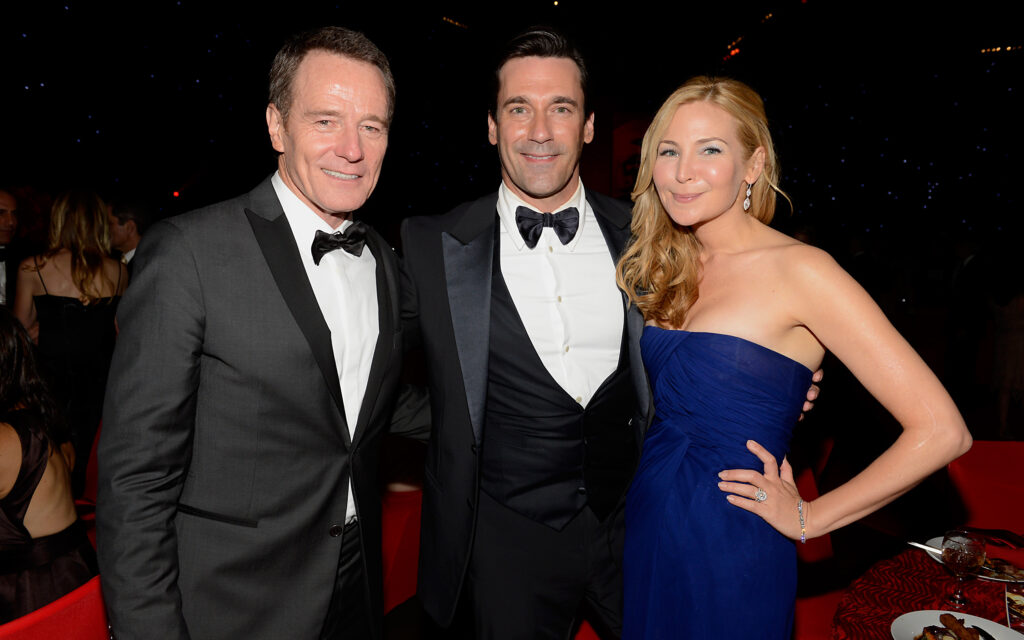 Bryan Cranston, Jon Hamm and Jennifer Westfeldt on Emmy night 2012.
AMC, IFC, and Sundance
Sunday night, Boa, West Hollywood
Why It's Hot: Listen people, it's not just "Breaking Bad" and "Mad Men."  Bonding with their corporate siblings for the first time, there's also talent from "Portlandia", "Top of the Lake," and "Restless." Around 750 people are expected as the party upshifts from Hollywood nightclub Lure to Boa.
Matthew Weiner begs to differ. "(AMC's) always had serious parties," he told me at the Creative Arts Emmys. "The difference is (now) they have a lot of shows and they have become this premiere network. They have to throw a party accordingly."
The question is: will there be a spoiler-free cocktail zone for everyone who was at the Emmys and hasn't seen "Breaking Bad?"
Bart Freundlich,  Julianne Moore, Steve Buscemi and Jo Andres at last year's "Evening Before". (Photo courtesy of MPTF).
Evening Before Fundraiser for the MPTF
Saturday night Century Park, Century City
Why It's Hot: An invitation to one of the "Evening Before" or "Night Before" parties marks a career milestone:  you'll never need the MPTF. You'll be doing the "taking care of" in the organization's mantra of "taking care of our own."
Host Jeffrey Katzenberg says "the spirit of the party is one of community celebration, not only the Emmy nominations but the idea of giving back to take care of those less fortunate in the entertainment community."
Entertainment Weekly
Friday night beginning at 9:00 p.m., Fig & Olive, West Hollywood
Why It's Hot: The guest list looks like a curtain call of the year in pop culture.
It's one of the only parties of the year with a talent gues that spills on to multiple pages. I've said it before, but it bears repeating: EW editor Jess Cagle have curated a hive that makes this the Vanity Fair party of Emmy weekend, even before the high-low talent in the smoking patio – from "Downton" to "Parks and Rec" – all start taking shots and bumming cigarettes and off each other.  L'Oreal and Bebe cohost the bash that's just far enough not to walk from the PDC.
VANITY FAIR  and MAYBELLINE NEW YORK TOAST MAD MEN 
Friday night at Chateau Marmont (Bungalow One), West Hollywood
Why It's Hot: Top shelf ingredients make a top-shelf cocktail: classy show, hosts, and venue. A top room assuming the cast shows. During Oscar week, VF's bungalow one dinner for "Silver Linings Playbook" was a secret stockpile of clout during a similarly busy awards week.
Rich Sommer, Michelle Dockery and pals at last year's BAFTA TV Tea where it was "hot" because it was almost 100 degrees.
BAFTA TV TEA
Saturday at 2:00 p.m., Garden Terrace at the SLS, Beverly Hills
Why It's Hot: The Brits' afternoon tea is what a glossy Emmys soiree would look like on a scripted TV show. Growing each year, they've made the smart move in to a larger space at the SLS to fit in all the faces from the UK, Commonwealth, and America.
THE TV ACADEMY'S PERFORMERS NOMINEE RECEPTION
Friday night at Spectra by Wolfgang Puck at the Pacific Design Center
Why It's Hot: It's authentic. In fact, it's the most authentic of the emmy parties: acting nominees and the people who voted for them.  This year, there will be an unusually  strong contingent of people who make decisions about other people's careers riding the escalators at the PDC (executives) : Gary Newman, Erin Underhill, Russell Rothberg, and Tal Rabinowitz (all from NBCU), Patrick Moran (ABC Studios),  Chuck Saftler (FX), and Susan Rover (WBTV).
Other Industry Celebrations
Just like it's an honor to be nominated, it's an honor just to be invited anywhere.  On screen, Friday night may be where shows go to die on TV, but off-screen it is the most competitive night of the week for Emmy parties.  Uber and car services should love it.
Here's how the  majority of the television industry is celebrating this week:
Nominees' Parties: 
DIRECTORS NOMINEE RECEPTION

Wednesday night a the DGA, West Hollywood
Logline: Beth McCarthy Miller ("30 Rock"), Don Mischer (below, finishing last year's Emmy telecast), and Gail Mancuso ("Modern Family") are amongst the shot callers clinking glasses on Sunset.
WRITERS NOMINEE RECEPTION
Academy of Television Arts and Sciences, North Hollywood
Logline: Nominated writers who don't win will have the keepsake of a nominee's certificate handed to them by Hugh Bonneville.
Guest list includes Greg Daniels, Matt LeBlanc, Mircea Monroe, and Jeffrey Klarik ("Episodes"), Thomas Schnauz ("Breaking Bad"), and a handful of Kimmel writers likely fielding questions about the genesis of the twerk-fail video prank.
SHOWTIME
Saturday at Sunset Tower Hotel, West Hollywood
Logline: It's small, intimate, early, and poolside. They have 31 nominations and it will be less raucous than Showtime's pre-Mayweather party in Vegas last Saturday night. While Claire Danes is one of their marquee nominees, she's already a winner in one sense. She's scored a cross-promotional campaign with Audi that will screen during the broadcast that sees her driving herself 700 miles rather than deal with an annoying limo driver. Rufus Wainwright performs.
NBCUNIVERSAL
Saturday at Boa, West Hollywood
Logline: Increasingly it's the expansive cable galaxy of the "universe" that dominates at this evening-before whale.
FOX, FX, FXX, and 20th TV Emmy Party
Sunday, 8:00 p.m. at Soleto (801 S. Figueroa Street), Downtown L.A.
Zooey Deschanel, Gary Newman, and Julie Bowen at last year's Fox party.
Media Parties
Deadline/Awardsline Emmy Season Party
Wednesday from 6:30-8:30 p.m., Eveleigh, 8752 Sunset Blvd, West Hollywood.
The Hollywood Reporter Emmy Party
Thursday at Soho House, West Hollywood
Los Angeles Confidential Magazine Pre-Emmy Party w/ Morrena Baccarin
Thursday at Mr. C, Beverly Hills
Logline: Baccarin's cracked in to "Homeland's" emmy success with her own nomination and now the glossy's September cover.
People StyleWatch Hollywood Denim Party
Thursday at Palihouse, West Hollywood 
Logline: Before the Emmy awards, editor Susan Kaufman and publisher Stephanie Sladkus toast the best of the pants that you can't wear anywhere else this week.
Variety & Women In Film Party
Friday at Scarpetta, Beverly Hills
Logline: Get ready for statistics about gender inequality in Hollywood. There's always lots of them and most of them are disappointing. On the plus side, the host committee (who are all coming) includes Connie Britton, Laura Dern, Laura Linney, Jane Lynch, Elisabeth Moss, Kerry Washington, Alfre Woodard and non-woman Jimmy Kimmel. Larry David, Ted Sarandos, Allison Williams, and Abbe Raven will be in the mix. Ciroc and Gallo Family Vineyards are pouring.
Charity Fundraisers
Beyond Hunger: A Place at the Table
Montage Hotel, Beverly Hills
Logline: Susan Sarandon gets honors, The Band Perry performs, Geena Davis, Jon Heder, Diane Lane, Colbie Callait, Heifer International, and Bruno Tonioli host the night focused on women's role in combatting world hunger.
Art of Elysium Genesis
Friday at Siren Studios Cube, Hollywood
Logline: After last year's Saturday night bash in a downtown tunnel, the celeb-friendly charity relocates back to Hollywood.
Agency Parties
Keli Lee, Steve Lafferty, Brian Grazer, and Richard Lovett at last year's CAA party at Bouchon.
CAA
Bouchon, Beverly Hills
Top Client Nominees: Al Pacino, Helen Mirren, Melissa Leo (who already won), Kerry Washington, Kevin Spacey, Jon Hamm, Alec Baldwin, and "Game of Thrones" producers David Benioff and D.B. Weiss.
WME
Address Witheld/Private Residence in the Beverly Hills "Flats"
Top Client Nominees: Claire Danes, Elisabeth Moss, Damian Lewis, Matt Damon, Michael Douglas, Tina Fey, Amy Poehler, and George R.R. Martin.
UTA
Address Witheld/Private Residence on the west side
Top Client Nominees: Bryan Cranston, Anna Gunn, Aaron Paul, Hugh Bonneville, Don Cheadle, Bill Hader, Tony Hale, Judd Apatow, Lena Dunham, and Steve Levitan.
PARADIGM
At the 35,000 square foot Beverly Park home of Alec Gores, brother of Paradigm CEO Sam Gores. This is a rare gathering of Paradigm's top executive honchos and talent.
Adcolor Awards
Saturday night at the Beverly Hilton, Beverly Hills
Logline: While not technically an agency party, CAA client Randy Jackson presents an award to CAA Foundation executive Ryan Tarpley at the end of the media diversity org's three day conference timed to Emmys weekend.
The Emmy Show Itself: Sunday, September 22: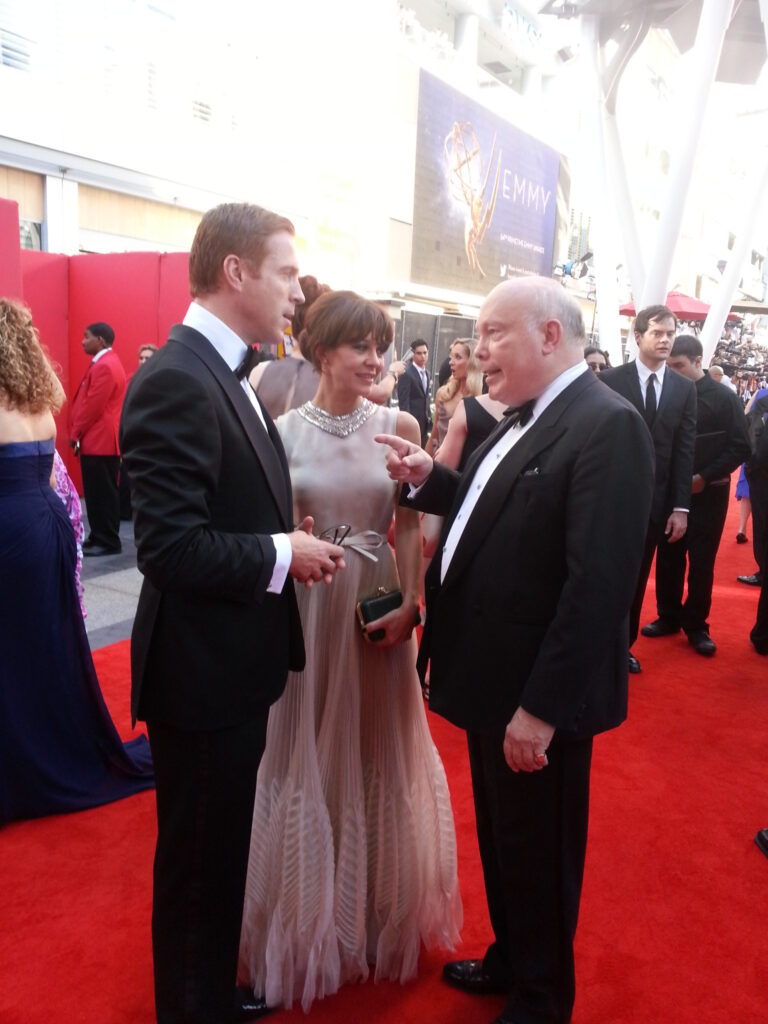 Damian Lewis and Julian Fellowes on the carpet in 2012.
65th Primetime Emmys – Red Carpet
Sunday at the Nokia Theatre, LA Live
The red carpet begins at 3:00 p.m., the lobby scene soon after, and continues until Neil Patrick Harris takes the stage. The Emmys air live coast-to-coast at 5:00 p.m., which means that L.A. can watch it live too. (Get with it, Grammys – the lone major awards show that still tape delays.)
Governors Ball
West Hall, Convention Center
Logline: Elton John (with Harris, at a gala in May) performs on the Emmys broadcast, but if he was performing at the Governors Ball, people would definitely stay longer. If you liked "Avatar" or "Twilight", you're in luck. Producer Cheryl Cecchetto's 3800 guests will be running table to table under 20,000 feet of foliage and massive trees in an "enchanted forest" theme (above). This forest and its natives are irrigated with a flood of Heineken, Grey Goose, and patina catering to fuel the night's migrations.
If you're looking for someone, grab an usher with a seating chart. There's 400 tables and zero chance you'll just just casually bump in to Les Moonves or Kevin Reilly.
Off the Grid Secrets
Gifting Under the Stage – During the Show
Under the Stage, Nokia Theatre
Before and during the show, there's an Academy sanctioned gifting suite downstairs in the dressing room area. It's through this doorway (at left) on stage right and down the elevator.
Warning: Producer Ken Ehrlich's talent department handles the RSVPs for this, and its limited to presenters and performers.
They'll gift check all the swag so it can be run out to the car service after the show. Many of the sponsors, a group that includes Bose headphones and items from Valentino and Ferragamo, will kick in for a $150,000 donation to the Academy Foundation's Education programs, a number that escalates based on how many talent take part. They're pivoting it this year towards this "giving" hook to get suite-adverse talent to participate.
NPH
Off the grid.
Unlike previous hosts like Jimmy Fallon who threw late night bashes at the old Trousdale, Neil Patrick Harris will wind down his second Emmy hosting gig in what I hear is a low-key, private get together with friends.
A few brands are deeply embedded in Emmy week, partnering with networks and the Academy to produce these bashes. Expect to see Academy partners Audi, Grey Goose, Beaulieu Vineyards and Samsung Smart TV everywhere, as well as Heineken, Gallo Family Vineyards, and Ciroc lubricating the festivities.
All of these events are private, by invitation only, and with scary security. Tickets are available for purchase to the Art of Elysium Genesis event.
(MPTF picture courtesy of MPTF; Deschanel/Newman/Bowen by Christopher Polk/Getty Images for Fox; Cranston/Hamm/Westfeldt, Lewis, Louis C.K., Cryer/Lorre, and Don Mischer by Picture Group;  CAA by  AB Images;  BAFTA by Getty Images; Harris/John by Stefanie Keenan/Getty Images, Louis-Dreyfus by Getty Images; Sarandos and London Hotel by Getty Images.)