A version of this story appears in theComedy/Drama issue of EmmyWrap
Monica Potter's journey through the experiences of a mom with cancer on NBC's "Parenthood" actually began with her own medical scare. "When I went in last year for a mammogram, my first one, they said they found something," Potter told TheWrap.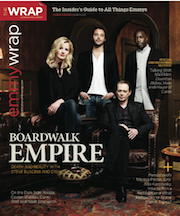 On the heels of the discovery, the 41-year-old mother of three went home and emailed executive producer Jason Katims, pitching a cancer storyline in the show's fourth season for her character Christina. "He emailed me back and said, 'I have the chills, because we just broke that in the writers room,'" she remembered. "We were able to go on the journey together." (For his part, Katims also had a personal connection to the subject — his wife is a breast cancer survivor who is more than two years cancer-free.)
Also read: Alex Karpovsky on 'Girls' – 'Every Character Has Shown Unsavory, Forbidden Aspects'
Luckily, Potter's scare ended up with the diagnosis of a benign cyst and a clean bill of health. But instead of delving into research on the subject of cancer, Potter said she went into the season with very little preparation for a storyline that took her character through diagnosis, chemotherapy and then remission. "I didn't want to know anything about what goes on with breast cancer and the treatments for it, because I wanted to experience it with the character along the way."
That's actually very strange for the Cleveland-born actress, who considers herself very "Type A" when it comes to preparation and who has gotten ribbing from colleagues for her methods. "I'll take a script, I'll rip it apart, I'll highlight, I'll staple each scene.
Sometimes, we shoot two at the same time, so I'll put them in categories," she said. "This year, I decided that I wasn't going to do that. I wasn't going to sit there and pull the scripts apart, and I wasn't going to have to know everything."
Also read: Emmys: Nikolaj Coster-Waldau on the Naked Truth About the 'Game of Thrones' Kingslayer
Not only did viewers react favorably to Christina's battle with cancer, but critics did, too. Potter recently won a Critics Choice Television Award for the portrayal and is getting a lot of Emmy buzz as well.
"I'm so excited and I'm so thrilled," she said. "And it's cool, because my boys are older, and they've seen me work at this since I was in my early 20s." Her career began, she said, when Danny, who was born in 1990 and is the oldest of her three children, was about 3.
"We'd travel all over and live in hotels, and I'd work and try to get paid. And the Critics Choice was the first award I'd ever been nominated for. To me, that's the best part of it all, to see the kids and their excitement. It shows hard work and dedication and loving what you do can be celebrated. And it's kind of awesome."