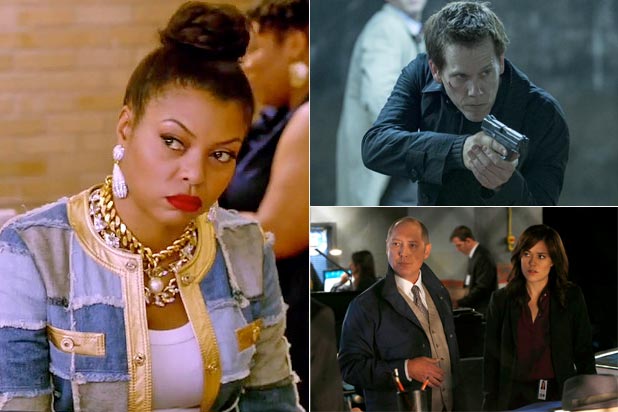 (Scroll down for TheWrap's complete sophomore season ratings chart)
Fox's "Empire" had an historic freshman run, eventually becoming the highest-rated show on all of TV — but could it be due for a sophomore slump?
After all, when you're on top, there's nowhere to go but down — just ask Lucious Lyon.
Looking at the top-rated first-time scripted dramas of the last decade, TheWrap found that each dropped an average of 13.5 percent in Season 2.
Only one actually grew in the ratings in its second season: Fox's now-defunct music-based series "Glee," which rose 12 percent in the key 18-49 demographic from the 2009-10 season to 2010-11.
Also Read: 7 Things Scene and Heard at 'Empire' Premiere: Cookie vs. Boo Boo Kitty, Rev. Al Sharpton Get Raves and Roars
Another show stayed flat: CBS' "Hawaii 5-0" had a 4.0 rating over both of its first two seasons.
But those are the exceptions in the last 10 years. Fox's "Fringe" plunged 35 percent in Season 2 and "The Following" fell a discouraging 30 percent. No other shows slipped more than 20 percent year over year.
If the 13.5 percent average dip holds for the Taraji P. Henson-Terrence Howard hip-hop soap opera, "Empire" would decline from a 7.1 rating to 6.1. The bad news: That's down double digits. The good news: It's still a massive figure that most networks would envy.
Should it actually pull in such a gaudy Nielsen number, it would be the third-best Season 2 out of these studied shows — behind only "Heroes" (6.2 in Season 2) and "Desperate Housewives" (10.0 in Season 2) — and the top since 2007-2008.
Also Read: See TheWrap Magazine's First Ever Fall TV Issue: The New Broadcast It List (Exclusive Video & Photos)
Of course, "Empire" is starting much earlier in the season, which could boost its audience. On the other hand, going from 12 episodes to 18 this season could dilute its overall ratings pull.
In terms of the Season 2 premiere episode, industry insiders expect a demo number in the mid-high 5's in Nielsen's Live Plus Same Day measurement, which would be far above the very strong 3.8 that the series premiere achieved back in January.
See "Empire" star Jussie Smollett's interview and exclusive photos from TheWrap's Fall TV Issue:
See TheWrap Magazine's Fall TV Issue complete coverage: