Third time's the charm? The Tribune Company must certainly hope so.
The Oct. 15 deadline that U.S. Bankruptcy Court Judge Kevin Carey gave the company and creditors Monday — the third extension in the proceedings — could finally see an end to Tribune's 22-month bankruptcy case.
The new deadline came as the various parties entered another day of mediation over a smorgasbord of claims in which some creditors have pitched in, some have walked away and some are waiting on the sidelines to see how much of the estimated $12 billion they are owed they can get.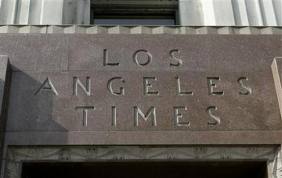 Carey has told the company and creditors to submit proposals to divide up ownership of the media giant to pay creditors in the hope of finding a resolution in the current arbitration proceedings that would allow Tribune to exit from Chapter 11.
Neither Tribune nor creditors contacted by TheWrap replied immediately to requests for comment.
Tribune, owners of the Los Angeles Times, the Chicago Tribune and various broadcast properties, has been in Chapter 11 since December 2008. That was less than year after current chairman Sam Zell took the company private in late 2007 — an $8 billion buyout that an independent examiner's report this summer called out for "dishonesty."
With dozens of creditors looking to recoup — and some to take Zell to court personally — the company recently signaled it was open to a reorganization plan submitted on Sept. 17 by New York hedge funds OakTree Capital Management and Angelo, Gordon & Company.
One of the largest senior creditors in the case, Angelo Gordon was co-founded by John Angelo, a close friend of former Disney CEO Michael Eisner. Eisner was seemingly heavily poised in the late summer to take over as Tribune chair from Zell, a move many thought orchestrated by Angelo.
Not that billionaire Zell doesn't have a few powerful friends of his own – he was seen on Sept. 29 lunching with now former White House chief of staff and potential Chicago Mayor Rahm Emanuel in what many saw as the former Obama aide's attempt to solidify ties with Chicago's richest man before formally throwing his hat in the race to replace Richard Daley.
While Zell plays hometown kingmaker and Eisner –, who has been talking up a series of non-denial denials about his future at Tribune on a recent book tour — may or may not yet swoop in, any action will likely have to wait until after Judge Carey's deadline in the next two weeks.