As the media elite gathered in Washington to gawk, gladhand and rub elbows with President Obama at the annual White House Correspondents Dinner on Saturday, a dark cloud that was gathering had already started to dissipate.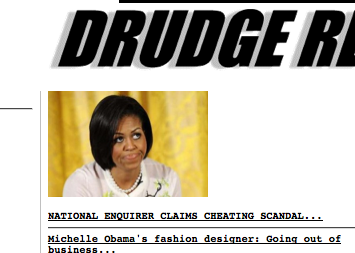 That cloud came from The National Enquirer, which for about 24 hours – and with a boost on The Drudge Report – dangled an exclusive story about the president supposedly having an affair with a campaign aide, Vera Baker.
Not many years ago, this sort of report would be easy to dismiss — a sensationalist tabloid, boosted by a lone Florida blogger. Ignore it, raise a glass to POTUS and party down at Vanity Fair.
But nowadays it's the kind of thing that requires every serious media outlet's attention. Matt Drudge led the way to Bill Clinton's impeachment. And the Enquirer left the entire media establishment to squirm, mute as it broke the story of John Edward's affair with Rielle Hunter, and produced photos and follow-ups.
All the while the mainstream media remained absurdly, inexplicably silent while the story unfolded nonetheless. Edwards was reduced to a punchline at the Correspondent's Dinner, with host Jay Leno observing: "John Edwards, a personal injury attorney who turned out to be a sleazeball – I was stunned by that revelation."
None ignore the Enquirer anymore. But this time it looks like the tabloid has squandered the credibility that it so hungered for, and that propelled it to apply for a Pulitzer Prize this year (which it did not win).
In the 24 hours since the story was published, the tabloid has backtracked on claims that there was a tape of an alleged tryst in 2004. (But it was on the Obama-hater hotline: a Republican activist happened to be at my house for dinner last night when his phone rang – his grandmother calling to alert him to the Drudge report.)
Fairly recklessly, the original story stated: "Investigators are attempting to obtain a tape from the hotel (that) shows Vera and Barack together… If the tape surfaces, it will explode the scandal."
Um, 'investigators'? As in, people with authority to investigate a crime? Unh-unh. We learn: "top anti-Obama operatives" are offering more than $1 million to witnesses to reveal what they know about the alleged hush-hush affair.
Those kind of "investigators."
The current story now states: "Now, the investigators are searching for a hotel surveillance videotape," and adds, "An ENQUIRER reporter has confirmed the limo driver's account of the secret 2004 rendezvous and has also learned that on-site hotel surveillance video camera footage could provide indisputable evidence to the investigation."
There is no indication that there was a correction to the story.
In the meantime, Drudge has downgraded its version to: "National Enquirer claims cheating scandal."
In the case of Rielle Hunter, it all smelled like the real thing from the first: there were details from a meeting at the Beverly Hilton, and there were photos.
This time – no details, no photos, just wishful Obama-hating. I say it's a yawn, and a reprieve for the mainstream media.
Note to the Enquirer: credibility is very hard to earn, and very easy to lose.
A Google search will show you that almost no one has picked this up.
Luckily for all the Wolf Blitzers and Chris Matthews and George Stephapoulos's dressed in tuxedos at a fancy dinner with the president Saturday night – come Monday they may not have to.
See also: Slideshow: At the White House Correspondents Dinner
John Edwards Love Child? A Newsroom Conundrum
John Edwards Update: Mass Media Takes a Bite