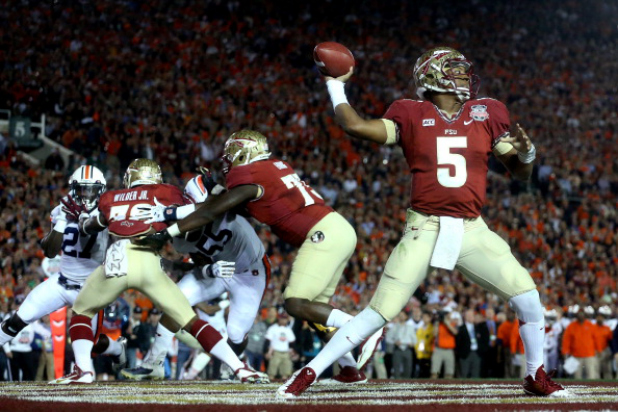 They celebrated in Tallahassee Monday night, and now the champagne bottles are popping in Bristol: ESPN's broadcast of the BCS National Championship was the third most-watched audience of any program in cable history.
The game — an instant college football classic which saw No. 1 Florida State defeat No. 2 Auburn 34-31 in a Monday night nail-biter – averaged 25,572,000 viewers and a household fast national rating of 14.4, according to the network.
The only larger cable broadcast audiences in history are also ESPN BCS National Championship Games, from 2011 and 2013, respectively. In 2011, 27,316,000 viewers tuned in for Auburn's close 22-19 victory over Oregon. Last year, 26,380,000 viewers watched Alabama's dominant 42-14 win over Notre Dame.
Also read: Fox's NFL Regular Season Hits Record Viewers, Ties Top Ratings
ESPN2 and ESPNews added roughly 500,000 additional TV viewers to Monday's mix. An additional 773,000 unique viewers tuned in via WatchESPN across several platforms and provided large growth over 2013's online effort.
The Worldwide Leader in Sports' presentation of the five BCS bowl games this season averaged 16,549,000 viewers and a 9.4 HH rating, up 9 percent (vs. 15,131,000) and 7 percent (vs. 8.8), respectively, versus last year's five BCS games.