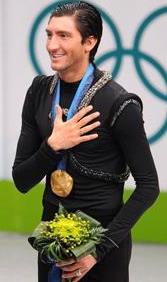 Evan Lysacek may be following in the footsteps — or is that blades? — of fellow Olympians Kristi Yamaguchi and Apolo Anton Ohno. Apparently the gold medal-winning ice skater is interested in appearing on ABC's "Dancing With the Stars."
Lysacek reportedly is friends with both figure skater Yamaguchi and short-track speed skater Ohno, so he has people to turn to for advice on ABC's hit reality show.
EW.com says "DWTS" professional dancer Cheryl Burke contacted Lysacek via Twitter after his win and suggested he join the reality show.
"Dancing With the Stars" returns to ABC on March 22. Lysacek is committed to headlining the post-Olympics Stars on Ice tour, which runs April 1 through May 30.
Via email, Lysacek told EW.com: "Acting is something I have always been interested in, especially since moving to L.A. and getting to know so many people within the film and television industry." Could "DWTS" be his foot — er, skate in the door?
Lysacek is the first American man to win the gold medal in men's figure skating since Brian Boitano — who has his own reality cooking show — did it in 1988, also in Canada at the Calgary Olympics.