EXCLUSIVE
Syfy has cast "24" veteran Eric Balfour and "Queer as Folk" alum Lucas Bryant in its new Stephen King-inspired series "Haven," while "Firefly" fave Gina Torres is stopping by the network's "Warehouse 13."
Balfour and Bryant join the previously announced Emily Rose on "Haven," which is based on King's novella "The Colorado Kid." Rose plays Audrey Parker, an FBI agent who ends up discovering a small town in Maine that serves as a safe zone for people with all manner of supernatural skill sets.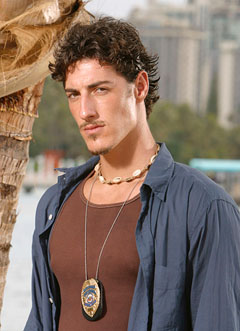 Bryant has been cast as Nathan Wuornos, a dry-witted cop who ends up becoming Parker's partner. Balfour, meanwhile, is set to play local resident Duke Crocker, a "charming yet mysterious jack of all trades" whose "mellow demeanor may conceal a much darker agenda," according to info from Syfy.
Balfour is popular among Syfy execs: He appeared in the network's just-aired telepic "Dinoshark." He also had a role in the first and sixth seasons of "24" (as IT dweeb Milo), and he played Claire's boyfriend early on in the run of "Six Feet Under."
The actor also starred in the short-lived UPN series "Sex, Love & Secrets" alongside… yup, Bryant. Bryant's other credits include guest spots on "Queer," "Playmakers" and "Odyssey 5."
Production on "Haven" starts shortly in Nova Scotia for a planned summer debut on Syfy. Scott Shepherd, Lloyd Segan, Shawn Pillar, Noreen Halpern, Sam Ernst and Jim Dunn are executive producers for the show, which is from E1 Entertainment.
As for "Warehouse 13," Torres is set to play a love interest for the show's Pete (Eddie McClintock). She joins previously announced "Firefly" alums Jewel Staite and Sean Maher on the show when it returns for its second season in July.
Also booking guest gigs on "Warehouse": Philip Winchester ("Crusoe") and Paula Garces ("Defying Gravity"). Garces will play the recurring character of Kelly, a headstrong vet who catches Pete's eye. Winchester will play a 1950s matinee idol who somehow ends up in the Warehouse hamlet of Univille.