While the Web dissected Christian Bale's reputation via snark, satire, censure and video remix, his co-workers on the set of "Terminator Salvation" stepped up to defend him for the tirade against Shane Hurlbut, the director of photography.
Speaking on condition of anonymity, set workers said that Bale, who plays the lead character John Connor in the $200 million-budget movie, was an uncommonly quiet actor and that on the day of his outburst he had been in the midst of an emotional scene with Bryce Howard.
It was a blazing hot day in the middle of the summer. Bale had just returned from a grueling press tour to promote "The Dark Knight." And he'd had run-ins with Hurlbut before.
The two actors were shooting a very quiet, emotional scene. Hundreds of set workers had cleared out of the way to allow Bale and Howard to get into character, when Hurlbut came into the actor's view repeatedly.
"It was a very emotional scene," said one set worker, who could not speak for attribution because she signed a confidentiality agreement. "We cleared everyone out of their sight-line and Shane was the only one there. And he was wandering back and forth between Bryce and Christian's eyeline."
"It was justified. It was warranted," said another set worker of the outburst, who also would not speak for attribution. "For him to be broken out of that scene at that moment was really really frustrating. In a way it's disrespectful."
The set workers said Hurlbut was not popular on the set, and few who were present that day felt any animosity toward Bale.
"On our show, (Bale) was very mild-mannered, very quiet," said the first set worker. "I only heard him get upset twice, and both times was at Shane."
Many of the crew from "Terminator IV" are working together on another movie in Albequerque, New Mexico, and were dismayed to learn of the wave of disapproval coming toward Bale. Shortly after the summer outburst the actor was arrested in England for verbal abuse toward his mother.
And in a sign of the viral nature of live recordings, it was the audio tape – whose source has not been determined, but may have come from the insurance company that kept a tape of the outburst – that set off the Internet wave. TMZ had reported the outburst back when it first occurred, but there were no repercussions at that time.
Earlier:
Warning: The links in this story contain lots of offensive language.
On Monday, the Web site TMZ.com incited an online frenzy after posting a
three-minute audio clip
of an enraged Christian Bale going ballistic on the set of his upcoming movie "Terminator Salvation" and dropping a slew of profanities -- including 36 F-bombs -- on the movie's cinematographer.
In the clip, the "Dark Knight" actor becomes infuriated after Shane Hurlbut reportedly walked behind co-star Bryce Dallas Howard and through Bale's sight line.
"Do you want me to go and trash your lights? Do you want me to go and trash them? ... Then why are you trashing my scene?" Bale shouts in one of the less profanity-ridden moments from the clip.
The confrontation occurred last July on set at Kirtland Air Force Base in New Mexico only days before Bale was arrested in London for allegedly attacking his mother and sister, another incident that stirred rumors the actor may have anger management issues.
But while that happened months ago, the web only learned about it on Monday. And in a web nanosecond, the "Dark Knight" star became the focus of curiosity, rage, derision and moral judgement as the nation found its latest water cooler topic via the Internet.
By late afternoon, Bale's Wikipedia page even had a fresh paragraph about the incident added. And by mid-week, as many testaments to his professionalism and explanations for his behavior had popped up on the Web as had satires.
It was just the latest sign that once-private moments for movie stars – including thos that occur in the closed circle of a movie set – are now part of the public forum.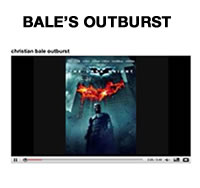 Tweets were chirping across the land, while US Weekly was no doubt readying its next searching, sensational cover on the star.
A three-minute-long satirical remix
of the audio made into a dance song posted on YouTube titled "Bale Out" was steadily making the e-mail rounds, while those inclined to make their own curse-lased remixes visited gaming website Ugo to form their own
Bale soundboard
.
"Terminator Salvation's" assistant director, Bruce Franklin, said the media frenzy surrounding the clip was
unjustified.
"If you are working in a very intense scene and someone takes you out of your groove...It was the most emotional scene in the movie. And for him to get stopped in the middle of it -- he is very intensely involved in his character. He didn't walk around like that all day long. It was just a moment and it passed."
Bale also found allies in a number of celebrities who hastily came to his defense. During the Hot Topics segment on Tuesday's "The View," film actress and comedian Whoopi Goldberg said she too found interruptions on set difficult.
"We don't know if this (incident happened) at the end of the day, we don't know how many hours (he had) been working," the co-host said. "It's tough. I know it sounds ridiculous, but I too have gone off on people, because if you're a professional, you know what you're not supposed to do."
"...Hurlbut, is a (sic) apparently a light tweaker. He's a fairly young DP and likes to fiddle with his lights on set during action, which is a big "NO NO" on most productions unless worked out in advance with performers. But apparently Shane was a pretty unrepentant light tweaker," Knowles wrote.
For Bale, the worst that might happen is that he and his tirade will become a permanent fixture in the pop culture lexicon.
Exhibit A:
On Tuesday's "
Late Show with David Letterman
" on CBS , the ousted former governor of Illinois Rod Blagojevich compares himself to Bale. After Letterman plays an excerpt from one of the curse-filled recordings in which Blagojevich tried to sell a Senate seat, the politician quips: "I was afraid you were gonna have some of those other tapes, where I sound like Christian Bale."