It's been nearly two decades since Sylvester Stallone ruled the box office with films like "Rocky" and "First Blood." With the release next weekend of "The Expendables" — a retro men-on-a-mission film with Stallone out front and center — Lionsgate is betting that there is still gas left in Sly's tank.
He won't be doing the heavy lifting by himself. Stallone has cleverly surrounded himself with a cavalcade of current stars like Mickey Rourke and Jason Statham — and '80s has-beens like Dolph Lundgren — who are past their expiration date, but still command goodwill among filmgoers.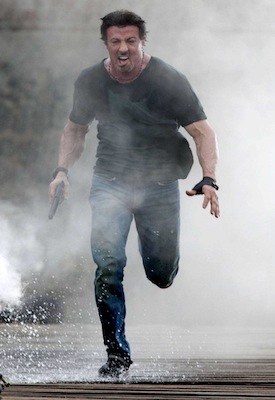 In true gang's-all-here fashion, even Bruce Willis and Gov. Arnold Schwarzenegger pop up in cameos.
(Also read: 'Expendables' Producer Avi Lerner on Lining Up an Action Movie Dream Team)
"Ten years ago, they couldn't have afforded these guys, but now it's a different story," Jeff Bock, a box-office analyst with Exhibitor Relations told TheWrap. "This is an action junkie's dream team, and that's how they're selling it — with just a list of names."
"They're taking their lemons and making them into lemonade," a rival marketing executive told TheWrap.
"Expendables" does not just represent a second chance for Stallone's crew, it also offers an opportunity for redemption for Lionsgate's marketing team.
The movie's opening comes at a bumpy time in Lionsgate's history. The studio's other summer entry, the Katherine Heigl and Ashton Kutcher action romance "Killers," crashed and burned. It only managed a lowly $46 million domestically on a $75 million budget. Although panned by critics, it also was crippled by a decision to release it concurrently with the similarly themed "Knight and Day."
"There was a canceling-out effect, you even had trailers for both movies playing before the same movies at the same theaters," Phil Contrino, editor BoxOffice.com, told TheWrap. "It's a generic romantic-comedy premise that's not strong enough for two movies back-to-back. It's not asteroids hitting the planet."
The studio also failed to translate rabid fanboy enthusiasm into a huge opening for its comic-book satire "Kick-Ass." That movie grossed $96 million worldwide on a $30 million budget, but according to several marketing executives and analysts, Lionsgate's schizophrenic campaign alienated fans. By playing down the movie's violence in trailers, Lionsgate failed to convey "Kick-Ass'" Tarantino-esque appeal.
"Lionsgate know how to sell 'Saw' and Tyler Perry movies," Devin Faraci, editor of the film blog Chud, told TheWrap. "They messed up with 'Kick-Ass' because they made it look like 'Mystery Men' — and nobody liked 'Mystery Men.'"
Lionsgate declined to comment for this article.
So far the approach on "The Expendables" seems to be working. The fanboy community has been worked into a lather through clever videos and digital promotions that revel in the macho cast. This week, for example, the studio released a witty faux interview with Stallone, which closes with the latter-day action hero blowing up the set with a bazooka.
Taking a page from Paramount's highly successful viral campaign for "Paranormal Activity," it's also prominently displayed a link so fans can post and share the video on Twitter and Facebook.
"This excites a certain kind of audience, and it's a choir that's beyond excited, because they're really preached to it," Faraci said. "They've pre-sold that audience — but will anyone else want to pay money to see a DTV movie writ large?"
Indeed, Lionsgate seems hell-bent on playing to its base. For instance, don't look for any distracting love interest, or even a butt-kicking female co-star to help attract women. It may not be a bad thing.
"You don't want to be so focused on expanding the base that you water down the key asset of the movie, " Vinny Bruzzese, president of the motion picture division for the research firm OTX, told TheWrap. "This is a cast that got put together so you could watch them kick some ass. It's smart to play to that strength and not sacrifice that male audience for a single female dollar."
In perhaps the starkest case of counter-programing seen at the box office this year, the movie is going up against Julia Roberts' female empowerment romance "Eat, Pray, Love." "Expendables" should open slightly behind that film with about $19 million for the weekend, according to BoxOffice.com's Contrino.
"The only question is if there is a sense is a sense of urgency," Bruzzese said. "There's a strong interest level, but the deciding factor is whether those people are going to say 'I'm seeing this movie."
Even if the film is a hit, Lionsgate won't see much of an impact on its stock price. The beleaguered studio has spent the past few months fighting off a hostile takeover from billionaire Carl Icahn. The renegade investor made hay out of "Killers'" poor showing by trying to get stakeholders to sell their shares, and even a hit with "Expendables" isn't likely to change any minds.
"It's not going to make a difference, because it's all about the corporate actions right now," David Joyce, an analyst with the investment firm Miller Tabak + Co., told TheWrap.