Facebook shrugged off increased scrutiny from Washington, D.C. on Wednesday, with the social network reporting it continued to attract more users — and pull in more ad revenue — during the second quarter of the year. At the same time, the company revealed it's facing a new antitrust investigation from the Federal Trade Commission.
Facebook's user base swelled to 1.59 billion daily users during Q2, an increase of 8% year-over-year. It also reported 2.4 billion monthly users, matching analyst estimates.
The company posted revenue of $16.9 billion, a 28% year-over-year increase that surpassed Wall Street projections of $16.5 billion. Facebook reported earnings per share of $1.99, excluding a one-time $2 billion charge related to its recent settlement with the FTC, topping analyst estimates of $1.87 EPS. The company had set aside $3 billion last quarter as part of its FTC settlement.
Also Read: Facebook Hit With Record $5 Billion FTC Fine Over Data Breaches
Earlier in the day, Facebook agreed to a record-setting $5 billion settlement with the Federal Trade Commission over its mishandling of user data. The FTC's privacy investigation opened last year, after it came to light 87 million Facebook users had their profile information unwittingly accessed by Cambridge Analytica, a political consulting firm.
Despite the deal, Facebook still appears to be in the commission's crosshairs.  In its letter to shareholders on Wednesday, Facebook said it was informed by the FTC last month that it had opened an antitrust investigation into the company.
Wall Street didn't seem to mind the latest investigation, at least at first blush, with Facebook shares increasing about 3.5% in early after-hours trading to $211 per share — putting the company within reach of its all-time high of $217 per share.
"We had a strong quarter and our business and community continue to grow," Facebook chief Mark Zuckerberg said in a statement.  "We are investing in building stronger privacy protections for everyone and on delivering new experiences for the people who use our services."
Also Read: Instagram Goes Down for the Third Time in Just Over a Month
Facebook estimated 2.1 billion people use one of the apps in its network — Facebook, Messenger, WhatsApp and Instagram — at least once per day.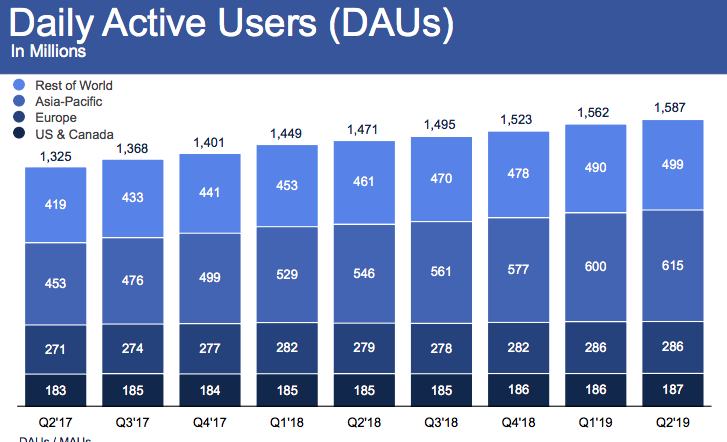 Average revenue per user of $7.05 increased 18% year-over-year during the quarter, indicating the company is squeezing more dollars out of its user base.
As part of its $5 billion settlement with the FTC, Facebook will be hit with "unprecedented new restrictions" on its business operations, according to the FTC, including establishing "strong new mechanisms to ensure that Facebook executives are accountable for the decisions they make about privacy, and that those decisions are subject to meaningful oversight."
Facebook will also create a privacy oversight committee created with independent members. The members can only be fired by a supermajority of Facebook's board, not by CEO Mark Zuckerberg alone. Zuckerberg and other newly appointed compliance officers must also submit to quarterly FTC check-ins. Any false information shared could open Facebook up to additional fines and penalties, according to the FTC.
Also Read: How Facebook and Twitter's Content Moderation Could Open a Legal 'Pandora's Box'
The settlement came a day after the Justice Department announced it was looking into anti-competitive practices in Silicon Valley — potentially putting Facebook and other tech giants like Amazon and Alphabet under increased regulatory pressure.
Still, there were signs that, heading into Wednesday, most Facebook users don't care about the company's privacy issues. Engagement on Facebook nearly doubled during the first half of 2019 when compared with the same time period last year, according to data shared by Newswhip, a social media tracking firm. Site visits to Facebook had also increased about 30% during the first two quarters of the year, according to a recent survey shared by marketing agency Merkle.
Facebook will hold a call to discuss its earnings at 2:00 p.m. PST.