The new season is just two days old, but there's already plenty of data around to start drawing some early conclusions about the state of the ratings race.
Overall, the good news is that networks can still draw a crowd. There's been huge tune-in for broad-based dramas such as "House" and "NCIS." And newcomers such as "Glee," "NCIS: Los Angeles" and "The Vampire Diaries" are all off to nice starts, providing hope that this season will produce more hits than last year.
It's worth remembering, however, that what happens during premiere week often stays in premiere week. Last year, "The Mentalist" had a good, not great, launch — it's turned into a big hit.
With those caveats in mind, here are five things we've noticed at the dawn of a new season:
1. A lack of ego has paid handily for CBS.
Networks are often loathe to pick up a rival's rejects out of fear of seeming desperate, or looking dumb if a show that failed on another network ends up failing again.
But CBS brass have never let pride get in the way when they feel a show makes sense for them.
They snatched up "CSI" when ABC rejected the show (and then became its producer when Disney bailed). And Friday, "Medium" will migrate from NBC to CBS, since the Peacock opted out of the show.
The Eye's best move, however? Keeping "JAG" alive after NBC pulled the plug on the show back in 1995.
It's understandable that NBC rejected "JAG." The show's first season didn't even rank among TV's top 50 series.
CBS, however, saw potential. And it paid off: The show lasted nearly a decade (and 200 episodes) longer. It made big bucks in syndication and international distribution.
But most impressively, "JAG" begat "NCIS," which premiered in 2003. Like its predecessor, "NCIS" built audience slowly but has now become one of the lynchpins of the CBS lineup.
If "NCIS: Los Angeles" can live up to the promise of its premiere, it's quite possible that "JAG" will end up as a franchise that will have supplied CBS with ratings success for more than 20 years.
2. Fox is off to a fast start.
The network's stated goal for the fourth quarter in recent years has been simply to survive. Difficulties related to baseball playoff coverage, plus some bad development, has often resulted in Fox foundering in the fall, only to recover in January once "American Idol" returns.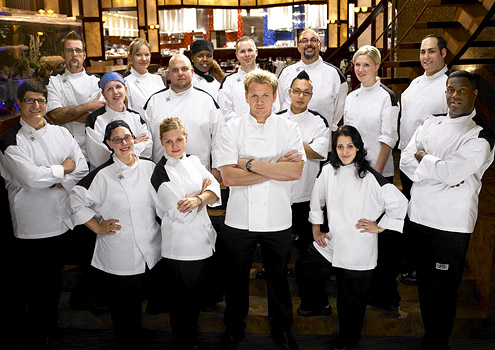 This season could be different. Last week, it beat NBC head-to-head with originals on a Thursday. Monday, it won the opening night of the season for the first time ever, thanks to a well-promoted "House" movie.
And last night, "Hell's Kitchen," despite facing intense competition, helped Fox finish in second place overall.
A big test for Fox comes tonight, when "Glee" — already renewed for a full season — faces real competition from "Law & Order: SVU," "Criminal Minds" and ABCs much-hyped new comedy lineup.
Thursday night is also a big question mark. "Bones" and "Fringe" helped Fox win the night last week. How the shows perform opposite real competition from CBS and ABC will say a lot about the network's overall strength.
But so far, Fox seems to be in the game this fall — and that's a big victory for the network.
3. CBS to critics: Drop dead.
Some networks love good notices. Fox, for example, built a whole print campaign around the glowing reviews for "Glee."
But Eye execs probably wish critics wouldn't be so nice to some of its shows. Reviewers loved "Swingtown," for example, and that didn't work out. And this year, they rave about "The Good Wife" while largely dismissing "NCIS: Los Angeles."
The result: Viewers flocked to "NCIS: LA" but were a bit cooler to "Good Wife."
The critical curse doesn't apply across the board. TV scribes adore "The Big Bang Theory," and it's now poised to become CBS's No. 1 comedy in adults 18-49. (Another critical fave, "How I Met Your Mother," is tops in adults 18-34).
4. Sorry, but it's still too soon to declare victory (or defeat) for "The Jay Leno Show."
Certain members of the media are insistent on drawing definitive conclusions from seven days of Leno ratings data. One blogger declared NBC's experiment a "failure" Tuesday, based on the so-so ratings the show notched Monday.
But wait! Leno bounced back Wednesday, almost finishing second. Today's memo: Leno's working! Any show that doesn't beat Jay in the ratings should walk away in shame.
Ugh. Both theories are premature. There's still lots of sampling going on, of both Leno and other shows. Viewers haven't made up their minds at all.
The good news for NBC is that Leno is anything but a disaster, at least so far. He's in the game, and that's better than being dead on arrival.
But his ratings could still collapse. Or, they could increase if viewers tire of the dramas on ABC and CBS.
5. The CW needs to keep it original.
The young-skewing network could have a hit on its hands with "The Vampire Diaries," while "Melrose Place" is struggling and "The Beautiful Life" is on cancellation watch.
The lesson? Fare that's fresh and new (like "Gossip Girl") can work very well for the CW. But younger audiences aren't as keen on being force-fed rehashes of their parents' favorite shows ("Melrose").
Or of watching series whose main reason for being ("TBL") is that they deal with the same subject matter ("America's Next Top Model").
This bodes well for the CW's midseason (or, perhaps, late fall) series "Life Unexpected." It feels unlike anything on CW now, and that may be just what the CW audience wants.