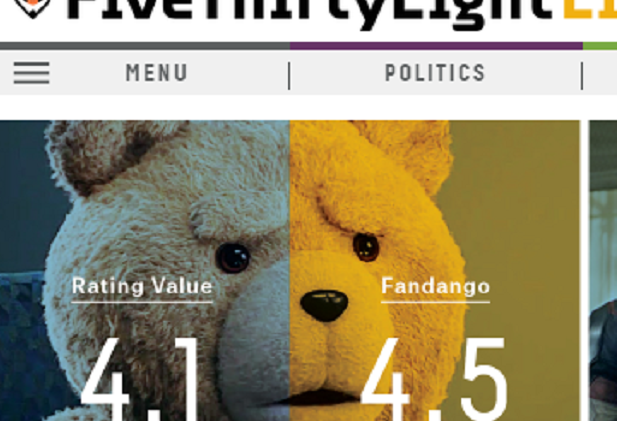 A sizable number of movies have received higher than deserved ratings on the online movie-ticket broker Fandango, but the NBCUniversal owned site is blaming a computer glitch.
The overly generous scores afforded certain films a small half-star uptick, a Fandango spokesperson said.
"We recently discovered a bug on our desktop website that has resulted in a small error, less than a half-star rounding, in the summary rating for some of the movies," the rep told TheWrap Thursday. "The bug is limited to our website only and the average rating for all movies is correctly presented on all our mobile apps. The bug online is being fixed and the correction will be reflected on our site in the coming days."
The number of films affected and their titles are currently unknown.
Also Read: Fandango Recruits Jason Blum, Dave Hollis for New Research Unit
The problems with the high rounding — the error would change 4.1 to 4.5, for example — on its site surfaced in a report by the web site FiveThirtyEight, the ESPN-owned news site that also pointed out that Fandango's aggregate scores are consistently higher than those of other movie sites, and rarely gave any movie less than three stars.
Fandango's star rating was higher than the IMDb rating 79 percent of the time, the report noted, the Metacritic aggregate critic score 77 percent of the time, the Metacritic user score 86 percent of the time, the Rotten Tomatoes critic score 62 percent of the time, and the Rotten Tomatoes user score 74 percent of the time. (see chart below)
Fandango denied any suggestion that it deliberately inflates movie ratings in order to boost ticket sales on the site.
"Fandango displays millions of user ratings and reviews that accurately represent the authentic views of our passionate consumers," Fandango spokesperson said. "For each movie, Fandango offers a summary star-rating of consumer sentiment by providing an average of all the star-ratings submitted by users."
One reason that ratings on the site could be higher than those of its rivals: a good number of the site's visitors are enthusiastic advance ticket buyers and perhaps more likely to be very positive about their purchase or potential buy.