"Fast Five" is roaring toward its U.S. opening Friday by clobbering the international box office.
As of Tuesday, it has grossed $31.5 million abroad.
That gross makes Universal's movie the biggest opener of any of the five "Fast and Furious" movies in the U.K., Australia, New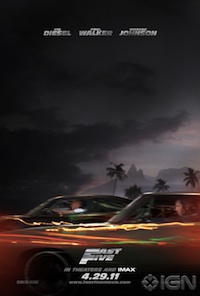 Zealand and Korea. Overall, it had a 38 percent market share in those territories.
Universal's franchise wasNo. 1 in those four territories, taking in $14.5 million in Australia, $11.5 million in the U.K., $4.1 million in Korea and $1.5 million in New Zealand.
After seven days, "Fast Five" grossed more than the lifetime box office of all the previous films in the franchise in Korea.
"Fast Five" opens in the U.S. on Friday, and is expected to have a giant weekend at home, as well — perhaps surpassing $70 million.
Like Marvel's "Thor," Disney's "Pirates of the Caribbean: On Stranger Tides" and Universal's "Rio," the movie opened internationally before it did in the U.S.
"Thor" opened in Australia on April 21 — six days before its limited U.S. opening and more than two weeks before its May 6 domestic wide release.
In Australia over the weekend, "Fast Five" outgrossed "Thor" by 41 percent.
In the U.K., it opened at the same level as "Iron Man" and 6 percent ahead of "Fast & Furious," the previous film in the franchise.