For the second week in a row, British fans will get a look at one of the summer's most-anticipated movies before U.S. audiences. This week, it's Universal's "Fast & Furious 6," which will debut Friday in the U.K. and Ireland, one week ahead of its North American rollout on May 24.
The early debut makes sense for Universal since the movie is set in London, and that's where its worldwide premiere was held last week. The U.K. was also the most lucrative foreign market for "Fast Five," which brought in more than $30 million there in 2011.
Also read: CinemaCon: 'Fast & Furious 6' Recognizes – Shock of Shocks – Moviegoers Aren't Just White Men
"Fast & Furious 6" will have plenty of competition. Warner Bros. is debuting "The Great Gatsby" in the U.K. this week, as it launches its foreign rollout. And Paramount's "Star Trek Into Darkness," which opened in the U.K. and six other countries last weekend ahead of its U.S arrival, will still be in the market, along with Disney's "Iron Man 3."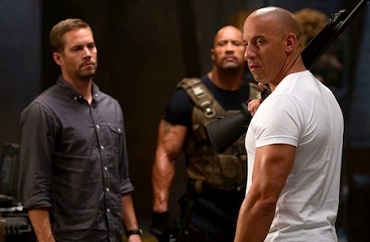 Universal has high hopes for "Fast & Furious 6," with good reason. Its predecessor "Fast Five," was the franchise's highest-grossing entry. It brought in more than $625 million worldwide, with $416 million of that from international. It opened to $86 million and went on to make $207 million domestically.
Director Justin Lin and screenwriter Chris Morgan are back for their fourth go-round, along with a cast that includes Vin Diesel, Dwayne Johnson, Paul Walker, Jason Statham, Luke Evans and Michelle Rodriguez. In this installment, agent Luke Hobbs (Johnson) enlists Dominic Toretto (Diesel) and his team to bring down former Special Ops soldier Owen Shaw (Evans), leader of a unit specializing in vehicular warfare.
Also read: 'Fast & Furious 6' Director Justin Lin Responds to James Franco's 'Annapolis' Criticism
Early projections have "Fast & Furious 6" opening to $100 million over the long holiday weekend in the U.S. Warner Bros. opens "Hangover Part III" and Fox rolls out the animated "Epic" that same week, and because of the crowded summer it may have a tough time going much beyond the domestic total of "Fast Five." But its foreign grosses should be bigger, analysts said.